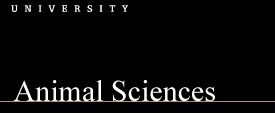 August 2004 ANSC Alumni Email Newsletter
INDEX of NEWS
Greetings from Animal Sciences!
We are currently gearing up for a new academic year starting with a busy month in August. Purdue Day at the Indiana State Fair is just around the corner on Wednesday, August 18th. Also during the Fair, the Indiana Livestock Breeders Association will be inducting Dave Smith into their Hall of Fame on Thursday August 12 at 6:30 pm in the Pepsi Coliseum. I would like to extend personal congratulations to Dave.
It is an exciting time with two new faculty members joining the Department this summer. We are enthused that we have made superb additions to our staff with Drs. Joe Garner, animal ethologist, and Ryan Cabot, molecular geneticist. I hope you will help me welcome the new faculty members joining our Department!
Lastly, the construction of two new buildings at the Animal Sciences Research and Education Center is complete. In conjunction with the United States Department of Agriculture, this Department will continue to move forward in research in the area of swine nutrient utilization and management and animal behavior and well-being.
Thank you for you continued support of the Purdue University Department of Animal Sciences.
Go Purdue!
Alan L. Grant
Saturday, October 16, 2004
11:00 a.m. - 3:30 p.m.
Lunch Buffet By Parrett's Catering
The Animal Sciences Department faculty and staff invite you to join us at our reunion tent for wonderful food and fellowship before the game. Whatever your affiliation with the Purdue Animal Sciences program, we want you to feel welcome at the reunion. Up-to-date schedules and details can be found at http://www.ansc.purdue.edu/alumni/; a registration form is available at http://www.ansc.purdue.edu/alumni/Reunion2004.pdf.
Our reunion tent will be at the north end of the Memorial Mall, convenient to parking in the Marsteller or University Street Garages. A pre-game lunch prepared by Parrett's Catering is planned and will include Indiana meats donated by Indiana Packers Corporation, Maple Leaf Farms, Indiana Beef Cattle Association and Tyson Foods. Additional sponsors include Indiana Farm Bureau and Smithfield Foods. Lunch will be followed by a brief welcome by Department Head Alan Grant, recognition of the 2004 Indiana Livestock Breeders Association Hall of Fame honoree, as well as introduction of our 2004 Animal Sciences Distinguished Alumni. There will be special seating and recognition for those celebrating their 25th and 50th anniversaries of their Purdue graduation (classes of 1954 and 1979), as well as members of the 1954 Judging Teams.
The homecoming game will match the Boilermakers with the Wisconsin Badgers. There will be a limited number of football tickets available at a group rate, so you'll have to order early. See the registration form for more information.
If you need more information or have questions, contact the Ag Alumni Association at phone (765) 494-8593 or fax (765) 494-9626.
Co-Chairs: Tip Cline, Kern Hendrix and Wayne Singleton
Animal Sciences Reunion Schedule
Saturday October 16, 2004
11:00 a.m. Tent Opens **
12:00 p.m. Check-in at Tent and visiting
1:30 p.m. Lunch - Reservations Required
2:30 p.m. Program
3:30 p.m. March to Stadium
4:30 p.m. Kick-off - Purdue vs. Wisconsin
** Occasionally a kick-off time will be changed. In the event of a change, tent will open four hours prior to kickoff.
3. Appreciation Dinner for Vic Lechtenberg
Purdue Agriculture invites you and your guests to an
appreciation dinner
for
Vic Lechtenberg
Vice Provost for Engagement
to celebrate his new appointment
and
his ten years of service as Dean of Agriculture
Wednesday, August 18, 2004
Indiana State Fairgrounds
Hospitality Tents
5:45 p.m. Tents Open for Visiting
6:30 p.m. Buffet Dinner
$15 per person
$2 from each ticket will be donated to the
Vic and Grayce Lechtenberg Student Leadership Fund
Please RSVP by August 13 to:
Purdue Ag Alumni Association
715 W. State St.
West Lafayette, IN 47907-2061
(765) 494-8593
debby@purdue.edu
Make checks payable to Purdue Ag Alumni.
Ticket does not include State Fair admission or parking.
4. 2004 ILBA Hall of Fame Honoree

David L. Smith
Greensburg, IN
David Smith started with a 4-H steer project in 1958. Since that first cattle project, David has been committed to the improvement of the beef industry. After graduation from The Ohio State University, where he served as a member of the Livestock and Meats Judging Teams, David worked as herdsman for Sayre Farms in New York then to Stewart Seeds Angus of Greensburg, IN. He progressed to Herd Manager and has been improving the 190 cow herd for the last 31 years. As manager, Stewart Seeds Angus markets 60-70 bulls annually, with bulls winning the IBEP test station and two bulls sold to A.I. studs. Under Dave's direction, all bulls are IQ+BEEF certified and ultrasound is a common practice for both the bulls and the heifers. The operation utilizes the most up-to-date technologies to advance the program and the breed.
As an industry leader, David is known across the country. He serves on the American Angus Association Board of Directors, the Treasurer for the Indiana Angus Association, keynote speaker at several state and national events, and is very active in BIF, IBEP, his church and community.
There is no doubt that David L. Smith is an outstanding breeder of Angus cattle and leader for the cattle industry. Congratulations and thank you for the lasting impact you have made to the cattle industry in Indiana.
5. New ANSC Facilities - Swine Environmental Research Building
The Department of Animal Sciences opened a new 12-room, 720 head Swine Environmental Research Building in West Lafayette, Ind., to study the effects of diet and management practices on manure nutrient generation, odor, air quality, and emissions from swine facilities. The new facility complements existing swine research facilities built in 1968 and 1986. Purdue hosted a dedication ceremony for its Swine Environmental Research Building on June 3.
This research facility has the unique capability of being able to determine the whole mass balance of nutrients in pork production in a model group-feeding setting by measuring feed inputs, whole carcass nutrient production, manure nutrient excretion and volatile nutrient losses to the air. The primary goals of using this research facility are to reduce manure nutrient generation and the emission of gaseous compounds and odors from swine facilities through diet manipulation, feeding management practices, and other building management technologies.
This new facility and research will aide the Nutrient Management Team in the School of Agriculture to help producers and consumers in Indiana, and across the US, by reducing the impact of swine production on the environment and to assist producers in meeting current and future environmental regulations. Drs. Richert, Radcliffe, Sutton and Schinckel, Department of Animal Sciences, will lead much of the swine research at this new facility. In addition, Drs. Al Heber and Don Jones, Department of Agricultural and Biological Engineering, will lead the odor and gas emission research with swine in this new facility and Dr. Ken Foster, Agricultural Economics, will be leading the economic research on the impact of these technologies on the pork industry.
Initial research projects scheduled to be conducted in the new facility are funded by the National Pork Board, USDA and EPA.
For further information, contact:
Brian Richert, 765-494-4837, brichert@purdue.edu;
Scott Radcliffe, 765-496-7718, jradclif@purdue.edu;
Alan Sutton, 765-494-8012, asutton@purdue.edu
6. New ANSC Facilities - USDA Lab to Study Stress Indicators in Livestock
By Don Comis
June 3, 2004
WASHINGTON, June 3 -- The Agricultural Research Service opened a new 2,300-square-foot Farm Animal Behavior and Well-Being Laboratory today in West Lafayette, Ind., for the study of stress indicators in livestock. Researchers at the new laboratory also study the relationship between stress and the ability of pathogenic bacteria to establish themselves in animals. ARS is the chief scientific research agency of the U.S. Department of Agriculture.
The new facility adjoins a 10,000-square-foot laboratory built in 1997 to house ARS' Livestock Behavior Research Unit, which conducts behavioral studies of swine, cattle and poultry.
Purdue University animal scientists work alongside ARS scientists on the Purdue campus and at the Purdue Animal Science Farm about 15 miles north of the main campus. Purdue hosted a dedication ceremony today for its Swine Environmental Research Building, located on the university farm near the new ARS laboratory.
ARS Acting Administrator Edward B. Knipling said the new ARS lab will complement the behavioral studies under way in the animal lab to find possible objective measures of animal stress.
"Stress in livestock can lower productivity and possibly increase the risk of contamination from Salmonella and other bacterial pathogens," Knipling said.
Donald C. Lay, research leader and animal behavioralist at the lab, is working on an imaging system to show the movement of Salmonella bacteria through live pigs. He and colleagues are also researching alternative housing for poultry and livestock.
In tandem with the housing research, the ARS-Purdue team is pioneering the idea of breeding nonaggressive animals to reduce losses and stress. This includes selecting sows whose maternal behavior makes them less likely to injure their piglets, a problem that costs farmers more than $600 million annually.
7. Teaching Youth Through 4-H Animal Science Workshops
Clinton P. Rusk
Assistant Professor
4-H Youth Department
Purdue University
West Lafayette, Indiana
cr@four-h.purdue.edu
Krisanna Machtmes
Program Evaluator
4-H Youth Department
Purdue University
West Lafayette, Indiana
kmachtme@purdue.edu
Introduction
The Animal Sciences Workshop for Youth began in 1972, when two Purdue faculty members were seeking a new forum to teach livestock management skills to 4-H youth. Their goal was to educate youth about animal production practices, while stimulating their minds to think about new and improved ways of raising animals. By bringing 4-H youth together with Animal Science professors at Purdue University, the founders of the workshop felt they could teach and recruit students at the same time. An intensive three-day training resulted from the collaborative efforts of an Animal Scientist and a 4-H Youth Development Specialist. Over the years, the following objectives have evolved for the Animal Sciences Workshop for Youth:
To develop and foster life skills through positive interaction with others.
To teach scientific principles of Animal Science to young people.
To increase the awareness of animal industry issues among youth.
To inform participants about careers in animal agriculture and educational opportunities at Purdue University.
To prepare delegates to share what they learn at the workshop with others in their communities.
Accomplishments and Impact
From the first three-day workshop in 1973, this significant educational program has impacted families in all 92 Indiana counties and more then 8,000 youth delegates from 11 states and British Columbia. The 225 delegates in attendance at the 2000 Animal Sciences Workshop for Youth were surveyed using an instrument designed to describe the demographic characteristics of workshop participants and measure the impact of the workshop itself. The survey instrument included six demographic questions; ten statements to be answered using the following Likert-type scale: strongly agree, agree, neither agree nor disagree, disagree and strongly disagree; and three open-ended questions. Analysis of the survey data revealed the following information:
94% found the workshop to be a positive learning experience.
85% learned information that would help them better manage their 4-H animal project(s).
85% indicated their understanding of the technology used in Animal Sciences had increased as a result of attending the workshop.
78% were motivated to share the information they had learned at the workshop with others in their community.
85% indicated the workshop had increased their desire to pursue a college degree.
88% indicated their impression of Purdue University had improved as a result of attending the workshop.
92% indicated they would encourage others to attend the Animal Sciences Workshop for Youth.
91% enhanced their communication and teamwork skills.
Conclusions
The Animal Sciences Workshop for Youth is creating a positive learning environment for youth, teaching scientific principles of Animal Science, and informing participants about careers in animal agriculture and educational opportunities at Purdue University. Survey results indicate the workshop motivated 78% of participants to share the information they learned with others in their community.

Indiana's youngest state legislative candidate, Eric Wolfe, and Coach Joe Tiller spoke to the youth attending the 4-H Workshop in June.
Dr. Ryan Cabot
Dr. Cabot recently joined the Animal Sciences faculty as an assistant professor in the area of molecular genetics and reproductive biology. He received his B.S. from the Department of Biochemistry, University of Missouri-Columbia and Ph.D. in Reproductive Biology, Department of Animal Sciences, University of Missouri-Columbia. He most recently completed a postdoctoral position at the Adolf-Butenandt-Institute, Department of Molecular Biology, Ludwig-Maximilians-University, Munich, Germany.
Dr. Joseph Garner
Dr. Garner recently joined the Animal Sciences faculty as an assistant professor in the area of Animal Ethology. He received his BA, MA and Ph.D. in Biological Sciences - Zoology from University of Oxford, United Kingdom and most recently was a postdoctoral researcher at the University of California, Davis.