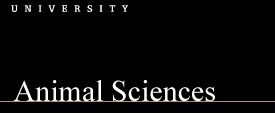 August 2005 ANSC Alumni Email Newsletter
INDEX of NEWS
Exploring International Agriculture: Maymester in China
Twenty-four College of Agriculture students traveled to China and explored international agricultural and food systems. From May 16 to June 10 the students learned about Chinese culture, visited ancient sites, and toured the local agricultural industry.
During their stay, students observed the differences in agriculture and college-life while visiting China Agriculture University, the Institute of Animal Feed of Chinese Academy of Agricultural Sciences, the Institute of Food Science of Northwest Agroforestry University of Science and Technology, and the College of Animal Sciences and College of Food Sciences of Zhejiang University.
"We had the opportunity to spend a day with Chinese students and the first hand information that they provided about life and education in China was an amazing learning experience for us all. I have been amazed when comparing the two countries; we have much more in common than we have differences," said Rachel Cumberbatch, junior in animal sciences from Lebanon, Ind.
Students toured the Beijing offices of the US Soybean Association, US Grains Council, and the Nestle plant. They also viewed several Chinese agribusinesses including a meat packing plant, a feed flavoring plant, a tea farm, and an animal feed company.
This trip also included visiting the Forbidden City, Tiananmen Square, Great Wall, Hong-Qiao bazaar (pearl market), a Tang Dance performance, and a class on acupuncture, to name a few.
John Forrest and Terry Stewart from the Department of Animal Sciences and Kirby Hayes from the Department of Food Science were the professors on the Maymester trip.
For more information and to view the student's itinerary, messages, and pictures while in China, log onto http://web.ics.purdue.edu/~tstewart/ansc294/china05/china05.htm. Learn more about all of the study abroad programs the College of Agriculture has to offer at http://www.agriculture.purdue.edu/ipia/index.html.
Unique Summer Internships Provide Experience, Develop Skills of Students
Many Animal Sciences students completed summer internship and work experiences during their time off from classes, but three undergraduate students benefited from unique placements.
Our Nation's Capitol
Erin James, a junior in animal behavior/well-being from Bloomington, Ind, was selected as one of five students to participate in the new College of Agriculture – Washington, D.C. Internship Program. James was placed in the Animal Care Division of the Animal and Plant Health Inspection Service (APHIS) in Riverdale, Md.
James responsibilities included several projects that required researching various issues related to the Animal Welfare Act and proposed legislation. She also accompanied an inspector to a research facility and learned what is involved in a routine inspection.
"During my time with APHIS, I was able to have more responsibility for my own projects and the people I worked with were wonderful," said James.
Through the internship program, James also visited with several Purdue alumni including Chuck Conner, Deputy Secretary of Agriculture; Eric Steiner, Senate Agriculture Committee staff member; and Dave Sammons, United States Agency for International Development (USAID).

Purdue interns with Deputy Secretary of Agriculture Chuck Conner.
(Left to right: Jeanna Pitstick, Lawrence Smith, Conner, Erin James, Tristan Emery, and Shane Hageman.)
The College of Agriculture – Washington, D.C. Internship Program is funded through a generous donation from alumnus Nels Ackerson and his wife, Sharon.
For more about the College of Agriculture – Washington, D.C. Internship Program, contact Jane Alexander at jalexander@purdue.edu.
Agriculture Abroad
Another student put her knowledge of horses to use at Zuchthof Moormann, a horse farm in Wettrup, Germany. Erika Richardson, sophomore in the science option from Greenville, Ind, became an active part of the farm, gaining responsibilities during her internship.
Richardson prepared several 2-year-old stallions for the Stallion test for various warmblood breeds, worked the 3-to 4-year-old riding horses, and groomed horses for competition.
Dressage competitions and foal shows happened weekly at the farm and Richardson was able to travel with the farm.
"Since Zuchthof Moormann has such wonderful horses, I had the opportunity to go many places and meet so many people from all over Europe, and the world, including Olympic riders," said Richardson.
She also faced some hardships during her internship, including the lack of English-speaking employees. Richardson met only two people who spoke English and has gotten used to hearing the German language. Erika wishes she had taken German classes instead of Spanish.
Behind the Scenes
Mandy Richardson, senior in pre-veterinary medicine from Rushville, Ind, was selected as a summer intern for the American Shorthorn Association (ASA) located in Omaha, Neb. This internship has been a natural fit for Richardson because she and her family own a herd of registered purebred Shorthorns and she has exhibited cattle for the last 12 years.
"The ASA internship interested me because it involves Shorthorns and because I've had the chance to work with some really great people," said Richardson.
Within the first days on-the-job Richardson began demonstrating her leadership skills. In conjunction with other ASA staff, the American Junior Shorthorn Association, and the Pennsylvania Shorthorn Association, Richardson played an instrumental role in planning the 2005 National Junior Shorthorn Show and Conference. It was her job to prepare the exhibitor folder which contains information about the show, Pennsylvania fun facts, rules for the show and contests, mailing information on all the participants, and other information pertaining to the week long show and youth conference.
Richardson also was responsible for writing press releases, performing daily in-office activities, and assisting with All-American PACE point tabulations. The PACE program is used to honor animals that have been successful in the show ring.
"This summer I've learned so much about Shorthorns and how a breed association operates. It has given me a better appreciation for those who work "behind the scenes" at national shows and all-year-round," Richardson said.
Information regarding internship opportunities can be found at http://www.agriculture.purdue.edu/oap/internshipsjobs.asp.
ILBA Hall of Fame 2005 Inductees
John Fox, Joseph Pearson, and Duane Sickels were inducted into the Indiana Livestock Breeders Association Hall of Fame during the Grand Champion Drive on August 11th at the Indiana State Fair.
John Fox – Shelbyville, Ind.
In 1936, John Fox started his involvement with the purebred swine industry with two Poland China hogs in 4-H. He has exhibited high quality purebred Poland China and Hampshire hogs across the country and took home many Grand Champion honors including Grand Champion Carcass at the Chicago International and Reserve Grand in the show. In 1954, Fox also exhibited the Grand Champion Barrow at Ohio, Illinois, and Indiana State fairs.
Fox has judged many hog shows and has hosted countless 4-H, FFA and collegiate judging teams. He has helped youth through sponsorship of numerous awards not only in the show ring but for many aspects of hog management and breeding projects.
Fox has been a tremendous leader and promoter of the purebred swine industry with drive and tenacity to carry ideas out. He has served on several local, state and national committees. When he served on the Indiana State Fair Board, he conceived the progressive idea of having sales following the purebred swine shows. Today several state fairs utilize the concept and the sales are a vital part of the fair each year.
Joseph R. Pearson – Hartford City, Ind.
Joe Pearson has served the agriculture and specifically the livestock industry in an exemplary manner. As Assistant Commissioner of Agriculture for the State of Indiana for nearly 10 years, Pearson has been an effective administrator and diligent leader that valued all agricultural species and their contribution to Indiana commerce. He has served the livestock industries as the direct line of communications to the Governor's Office and the state legislators, with the betterment of the industry at heart.
Pearson has truly been an advocate for the livestock industries through his work with the Livestock Promotion and Value Added Grants. He has initiated and helped to organize the Indiana Livestock Alliance with over 30 vitally important organizations represented in the Alliance.
Duane Sickels – Winchester, Ind.
Duane Sickels started his Suffolk sheep flock as a 4-H project. In 1970, he expanded his flock through his own replacements and purchases from breeders in Indiana and Tennessee. Duane has continually worked to improve his genetics through accurate record keeping and pedigrees. Currently, the flock consists of 250 Suffolk cross and white-face crossed ewes and 35 Boer cross does. In 1972, Duane held his first production sale and has had an annual sale in April ever since.
Duane Sickles is no stranger to the show ring and the Indiana State Fair, while having the Champion Market Lamb for four consecutive years. He has exhibited at shows across the country with many champions.
Teaching youth through livestock is a passion of Duane's. When serving on the National Suffolk Association Board, he worked to establish the National Junior Suffolk Association. He has served as an official at state and National contests and has judged many shows across the eastern half of the United States. Showmanship is his favorite portion of a show and Duane has established the Sickels Lamb Camp to help youth with their showing abilities.
Duane is an active leader at the local, state and national levels. He serves on several sheep committees and Boards that promote sheep and youth.
Congratulations to all of the recipients and thank you for your dedication to Indiana's livestock industry.
ANSC Student on Purdue Board of Trustees
Rachel Cumberbatch, a junior in animal sciences from Lebanon, Ind, was recently chosen to represent the student body on the Purdue Board of Trustees. She was chosen by Gov. Mitch Daniels after an extensive application and interview process.
"I want to be a go-between so students understand everything it is that we have to do," said Cumberbatch. "I have been researching issues such as repair, rehabilitation and tuition rates," she also said.
Cumberbatch will be replacing the outgoing student trustee Sarah Cussick, who recently graduated.
The board is a 10-member governing body that administers finances and decides rules and precedents for the University. Currently, the board is in the middle of a multi-million dollar campaign, facing budget short falls from the state legislature, embarking on numerous building renovations and presiding over a growing state-wide campus system.
To learn more about the Purdue Board of Trustees, log onto http://www2.itap.purdue.edu/bot/index.cfm.
The Homecoming Reunion flyer and registration form is online at http://www.ansc.purdue.edu/events/Reunion2005.pdf. Up-to-date schedules and details can be found at http://www.ansc.purdue.edu/alumni/. We hope to see you there!