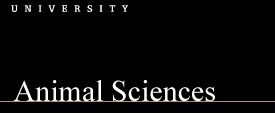 August 2006 ANSC Alumni Email Newsletter
INDEX of NEWS
Exploring International Agriculture: Maymester in Poland, Slovakia and the Czech Republic
Twenty-five undergraduate students were accompanied by three Animal Sciences faculty for this year's ANSC 294 course, Exploring International Animal Agriculture. This is the fifth year of this Maymester trip and the class explored Warsaw and Krakow, Poland, Nitro, Slovakia, and Brno and Prague, Czech Republic. The class departed on May 17 and returned on June 7. The course was completed after the students presented a seminar on June 9.
The class visited five veterinary and agricultural universities, research institutes, joint venture agribusinesses, animal enterprises, and many ancient churches and castles. They visited the monastery where Gregor Mendel did his pioneer genetics research and toured many structures of churches and villages from the 10th century. They also learned a great deal of European history, World Wars, and the Holocaust. Drs. Colleen Brady, Ed Pajor, and Mark Russell accompanied the class.
Next year's Maymester course will be to Brazil and will be a joint effort with Food Science.
Many Animal Sciences students completed summer internship and work experiences during their time off from classes, but three undergraduate students benefited from unique placements.
Animals and Communication
Hannah Brescher, from Ireland, Ind., has been interning at North Central Co-op in Wabash. Her position as an Animal Nutrition and Sales & Marketing Intern combined two of her interests, animals and communication.
"I have conducted surveys and face-to-face interviews for the feed division, wrote articles for the company newsletter, and joined nutritionists and sales representatives on farm sale calls," Brescher said.
Being an Animal Sciences, Pre-Vet major, Brescher has learned quite a bit about large animal nutrition through this internship. But, with a minor in Communications, she has also been given the opportunity to do things such as interview, create presentations, and write for a newsletter.
"My most memorable work experience from this internship was the opportunity spending the day with Emily Stammen, a Land-O-Lakes dairy calf nutritionist," said Brescher. "Not only did she teach me what it's like being a young woman in the agricultural industry, but she also shared information about calf management, diseases, and nutrition."
"That day we visited one farm that was strictly a dairy bull calf wean-to-finish operation which collected calves from New York, Pennsylvania, and other East coast states," said Brescher. "The calves had just arrived and were full of disease and injury to be diagnosed and treated. It was fascinating to see and help diagnose some very unique cases."
Brescher has a concentration in Pre-Vet and will be a senior this fall.
Cattle, Swine, Dogs, Cats...Oh My!
Kalamazoo, Mich., was the site of another exciting internship opportunity. Colt Daugherty, from Terre Haute, worked for Pfizer Animal Health as an Animal Research Technician. "On a daily basis my main responsibilities were helping with studies involving dairy cattle, swine, beef cattle, dogs and cats," said Daugherty.
Daugherty's internship also included a small amount of daily care, but mainly focused on blood draws, observations, vaccine studies and milk sample collection.
"My most memorable moment of the summer has to be the amount of hands on experience I have received," said Daugherty. From the first day, he has had the opportunity to work directly with research directors and other highly ranking individuals. "It's amazing to me that my work is actually be used in these studies," Daugherty said.
Daugherty's position has several direct correlations with my major and courses he has taken in the past; from the nutrition classes of ANSC 221, to discussions of marbling and estimated breeding values. "Several times over the summer I found classes, which I have taken at Purdue, benefit me as I worked with Pfizer," Daugherty said.
At the beginning of Fall 2005, Daugherty began contacting veterinarians which had attended Purdue and now work for Pfizer. "Throughout the year I kept in contact with several people, mainly Terry Bowersock, who informed me of internship opportunities," Daugherty said. He was then able to select through several internships and locate the one that fit his interests best.
"I can't say enough about how much this internship has benefited me," Daugherty said. "The experiences I have gained and the networking which has come from this internship are truly superior!"
Daugherty has a concentration in Animal Agribusiness and will graduate in May 2007.
In the Lab
Teresa Tomala, from Shorewood, Illinios, has spent her summer interning at Harlan Sprague Dawley, in Indianapolis. "My position has been the Technical Services Intern, but I have been able to be involved with customer services, sales, marketing, and other work in their facilities where the animals are maintained," Tomala said.
Tomala's supervisors have had her reading research articles related to physiology and assisting with genetic inquiries. She has also gained experience with animal welfare rights in the laboratory and their research model purposes. "Many of the research model uses are things that I have had in class before such as, immunology, toxicology, and reproduction," Tomala said.
When first considering summer internships, Tomala worked with Barry Delks, Coordinator of Career and Alumni Services, discussing companies with research facilities that were also attending the career fair in October 2005. "After figuring out which companies related to research, I then did background research on the history of the company and pursued an interview," Tomala said.
"During my internship, my most memorable work experience has been the hands-on experience I have had with the animals," Tomala said.
Three days a week Tomala worked in facilities where showering in and out was required. She would then weigh growth study strains dealing with 2 types of rats and 5 types of mice. Tomala then assisted with foundation/production colonies and observed surgeries.
Tomala will begin her junior year in the fall, with a concentration in Animal Agribusiness.
Information regarding internship opportunities can be found at http://www.agriculture.purdue.edu/oap/internshipsjobs.asp
2006 Distinguished Animal Sciences Alumni Awards
Purdue News Release: Department of Animal Sciences commends outstanding alumni
WEST LAFAYETTE, Ind. - The 2006 Distinguished Animal Sciences Alumni Awards will be presented to four individuals by the Purdue University Department of Animal Sciences.
"The graduates from our animal sciences program have made many contributions to the industry" said Alan Grant, head of the department. "We are very pleased with their accomplishments and look forward to honoring them."
The award honors individuals who have demonstrated excellence in industry, academia or governmental service.
"Not only does the award give recognition, but also provides current students an opportunity to view the pathways to success taken by alumni," Grant said.
An awards ceremony takes place at 2 p.m. Sept. 22 in Lilly Hall on Purdue's West Lafayette, Ind. campus. The honorees also will be recognized at the Animal Sciences Alumni and Friends Homecoming Reunion on Sept. 23 in the Animal Sciences tent on the Purdue Memorial Mall.
The two recipients of the Lifetime Career Award are:
Joe Pearson, of Hartford City, Ind. Pearson received his bachelor's degree in 1964. He demonstrates community leadership through participation with school administration, national agricultural commodity and policy groups, mission service and the Rotary Club. Pearson serves as a staff associate with the Purdue Center for Regional Development, where he is helping develop the Strategy for Excellence for 2020 and an Economic Development Administration grant. He is the former assistant commissioner of agriculture for Indiana, where he served the National Association of State Department of Agriculture, Indiana State Fair Board, Indiana State Fair Commission, Indiana Agriculture Leadership Institute, Indiana FFA Foundation, Counter Terrorism and Security Council, and Indiana Agriculture and Rural Development. He has also served as an agricultural advisor for the Methodist Mission in Sibu Sarawek, vice president of Blackford County Farm Bureau and president of the Indiana Soybean Association. Pearson has received the Sagamore of the Wabash Award, the Purdue Ag Alumni Certificate of Distinction and the Indiana Livestock Breeders Hall of Fame Award.
Walt Waitt, of Greenfield, Ind. Waitt earned his bachelor's degree in 1955. Waitt had a short stint at a purebred hampshire farm before serving in the Army Reserves from 1956 to 1963. He served as hog buyer for the Indianapolis Stockyard in 1956 and joined Eli Lilly in 1957, where he worked in swine research at the Greenfield Agricultural Research Center until retiring in 1992. Waitt was involved in the first feeding experiments on Tylan in 1959, Paylean in 1980 and was responsible for managing many of the swine research experiments. He played an important role consulting on the new swine facility at Elanco in 1980. In addition to his work, Waitt served on the Hancock County 4-H Fair Board, 35 years as swine superintendent, chairman of the pork chop tent at the Indiana State Fair and the Purdue Livestock Judging Team Committee. He also serves as a Hancock County Councilman. Wiatt has received the Indiana Pork Producers' Industry Meritorious Service Award.
Mid-Career Award recipient is:
John Madia, of Carmel, Ind. Madia earned his bachelor's degree from Purdue in 1978 and graduated from the Indiana Partnership for Executive Development at Indiana University in 1993. Madia, vice president of human resources, productivity and site operations at Dow AgroSciences, is responsible for being the global focal point for a number of initiatives, including Six Sigma, intended to improve their overall global competitiveness and productivity. Previously, Madia served as general manager for the Midwest Local Business Unit and held various sales and marketing roles including group marketing manager, business development manager and global business director. Over the years, he was involved in multiple Dow AgroSciences' segments from crops to professional pest, turf and ornamental, tech products and new product development. Madia serves on the Sponsor's Board for FFA, and has held positions on the Purdue's College of Agriculture Advisory Board, the Athletic Advisory Board and the Agricultural Retailer's Association Planning Board. He and his wife are part of the Purdue Presidents Council. Also, Madia was recognized by Dow with the Genesis Award for Excellence in People Development.
Early Career Award recipient is:
Jody Roth, of New Palestine, Ind. Roth earned her bachelor's degree in 1992 and her master's degree in 1994. Roth started her career at Elanco Animal Health as an associate research scientist. By 1998, she had been promoted to the senior regulatory associate and was responsible for developing regulatory strategies for new product development. In 2001, Roth became a senior program phase pharmaceutical projects management associate. Recently, Roth has been promoted to associate manager of Regulatory Affairs, where she develops regulatory strategies to fit with cross-functional oncology teams and implements interaction with the United States Food and Drug Administration. Roth was certified as a Project Management Professional in 2005. As a member of the Project Management Institute, she has authored and co-authored more than 11 scientific articles.
2006 Indiana Livestock Breeders Hall of Fame Honorees
Three new members of the ILBA Hall of Fame were honored at the Indiana State Fair on August 10.
Dale Grubbs
Angus Breeder
Hillsboro, IN
Dale Grubbs makes his entire livelihood from agriculture. For the past several years Grubbs Angus has been in the top of cattle registrations in Indiana with the American Angus Association. He has been breeding Angus cattle for over 30 years and produced several National and State champions, and has raised and owned many bulls that have been in major AI studs. The Genetic Opportunity Sale has been hosted by the Grubbs family at the farm and has marketed cattle across the United States and Canada.
Dale Grubbs believes strongly in performance testing of livestock. He has tested over 320 bulls in 58 Indiana Beef Evaluation Program tests. He has had numerous performance winners and top selling bulls through the IBEP sales and manages a performance tested program on his farm. Bulls are graded for gain, ultrasound carcass merit and semen checked for potential bull buyers.
Dale was a member of the Purdue University Livestock Judging Team and has judged several breeds of cattle at Denver and various state fairs. He strongly believes that youth are the backbone for the future of the beef industry and has worked closely with young people at the local, state, and national levels. He has served as an official and stock provider for many collegiate and high school judging contests.
He has been a leader in the IBCA and one of the founders of the Hoosier Beef Congress.
Congratulations and thank you to Dale Grubbs for your leadership and for being a very dedicated cattleman and progressive Angus Breeder.
Dr. Martin Stob
Educator
West Lafayette, IN
Dr. Martin Stob has dedicated his life to the education of current and past livestock breeders in the state of Indiana. This livestock industry professional is hard working, trustworthy, and a true leader.
For approximately 40 years, he taught the course "Animal Reproductive Physiology" at Purdue University and influenced the lives of approximately 4,000 students. When a significant sample of the students was polled, 93% indicated that they would like to take another course with Dr. Stob and 96% would recommend the course to their friends. A large number of those students have been and are now successful and influential livestock breeders.
Dr. Stob was named "Outstanding Teacher in the School of Agriculture" in 1964, 1966, 1969, and 1970 and "Outstanding Counselor in the School of Agriculture" in 1977. Selection limitations of these awards prevented additional recognition. Martin was one of 24 Purdue Teaching Faculty named to the "Iron Key" over a 60-year period. He also served students as an advisor for the Rodeo Club, Student Senate, Block and Bridle and the Farmhouse Fraternity.
Dr. Stob participated in research that measured the effects of both natural and administered hormones on carcass quality, growth, embryonic mortality and breeding efficiency of sheep, cattle, and swine.
Congratulations and thank you to Dr. Martin Stob for your influence on the knowledge, integrity and skill of numerous Indiana livestock breeders.
Keith Woodbury
Belgian Draft Horse Breeder
Winchester, IN
Keith Woodbury started with one Belgian Draft horse in 1951 and has become known across the United States and Canada as a distinguished and respected breeder of Belgian Draft horses.
In the show ring his accomplishments are too many to mention here. Keith has been chosen by his peers to judge countless state fairs and national shows. He has lectured at several seminars and is highly respected in the draft horse industry. He has a wealth of knowledge and is always willing to share that knowledge with breeders and competitors alike.
Always a leader, Keith has been the president of the Indiana Draft Horse Breeder's Association for six years and a member since 1953. He is a Board member of the Belgian Draft Horse Corporation serving his sixth term and a member of the organization for 43 years. He has supported and participated in the Hoosier Horse Fair for over 25 years.
The Woodbury family is a family that reminds us of the importance of working together for a successful outcome. Keith and his family have humbly created a friendly environment for all persons to better understand agriculture through their attractive display and excitement when they work the horses in and out of the arena floor.
Congratulations and thank you to Keith Woodbury for your leadership, unselfish devotion and dedication to the improvement of the Belgian Draft Horse and Draft Horse organizations.
Survivor Milks Life for All It's Worth
John Cleland, BS '73, was recently featured in the Purdue Agriculture Connections magazine. Read the article.
Please join me in welcoming our new faculty members in ANimal Sciences.
Dr. Paul Ebner joined the faculty in July 2006. Paul received his B.A. at Kalamazoo College, and his M.S. and Ph.D. from the University of Tennessee. He was an NIH NRSA post-doctoral fellow at the LSU Health Sciences Center. Paul will be developing a program in microbiology and pre-harvest food safety at Purdue. He and his wife, Paige, have moved from Shreveport, Louisiana.
Dr. Amy Lossie joined the ANSC faculty in August 2006. Amy received her B.S. from the University of Michigan and her Ph.D. from the University of Florida. Most recently, she was a post-doctoral fellow at Baylor College of Medicine in Houston, TX. At Purdue, Amy will be developing a teaching and research program in animal genomics. Her specific interests lie in the area of mechanisms of gene regulation, so her expertise will be of tremendous value to our growing programs in animal growth and developmental biology.
The Homecoming Reunion flyer and registration form is online at http://www.ansc.purdue.edu/events/Reunion2006.pdf. You are invited to join us at our reunion tent for wonderful food and fellowship before the Homecoming game. Up-to-date schedules and details can be found at http://www.ansc.purdue.edu/alumni/. We hope to see you there!