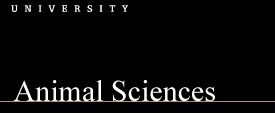 August 2007 ANSC Alumni Email Newsletter
INDEX of NEWS
An article about a program that offers Undergraduates unique research experience, written by Danielle Monroe (ANSC/AgCom student), was published in Spring 2007 issue of Destination Purdue. Check it out at: http://www.agriculture.purdue.edu/destination/Fall07/07Unique_opportunities.htm
Articles relating to Animal Sciences were recently published in the Summer 2007 edition of Agricultures magazine. Click on the links below to check them out:
Dr. Muir is working on a new statistical method for determining gene traits that may make for more productive livestock. http://www.agriculture.purdue.edu/agricultures/past/summer2007/Spotlight/spotlight5.htm
Animal Sciences researchers are looking for links between egg quality and disease development. http://www.agriculture.purdue.edu/agricultures/past/summer2007/Features/feature4.htm. The article features Drs. Rebecca Krisher, Zoltan Machaty, and Ryan Cabot.
In May, Animal Sciences student, Rachel Cumberbatch, received the Flora Roberts award for the outstanding graduating woman. Rachel was the student representative on Purdue's Board of Trustees and has served as an Animal Sciences ambassador. She was a member of Mortar Board, the President's Leadership Class and the Student Radio Advisory Board, while also volunteering for the Tippecanoe Humane Society, Boilermaker Volunteer Network and the Timmy Foundation during spring break trips to third-world countries. The award is made possible through a bequest by Flora Roberts of the Purdue class of 1887.
Dr. Marcos Rostagno (USDA-ARS LBRU Research Scientist) joined the Department of Animal Sciences as an Adjunct Assistant Professor. Marcos joins Drs. Don Lay, Susan Eicher, Heng-wei Cheng, and Jeremy Marchant-Forde as adjunct faculty members in Animal Sciences. We are pleased that Marcos is part of the team and part of the strong collaboration between Purdue Animal Sciences and USDA-ARS LBRU.
Marcos completed his D.V.M. at Federal University of Vicosa, and M.P.V.M. and Ph.D. at the Federal University of Minas Gerais. He completed his Post-Doctoral Training: USDA, ARS, National Animal Disease Center, Pre-harvest Food Safety and Enteric Diseases Unit.

Dr. Lianchun Fan has been appointed as a Research Assistant Professor of Animal Sciences. In his new appointment, Lianchun will contribute to the research and graduate education missions of the department. He will be studying cellular differentiation and gene expression during embryo development, using zebrafish as a model system.
He received his B.S. and M.S. degrees from Wuhan University, China and a Ph.D. degree from the Institute of Hydrobiology, Chinese Academy of Science. He completed his post-doctoral study at Purdue University.
Dr. Tamilee Nennich will be joining the Animal Sciences faculty in September. Tamilee will be filling the dairy cattle nutrient management position. She received her B.S. from University of Minnesota, Crookston; M.S. from University of Minnesota, St. Paul; and Ph.D. from Washington State University, Pullman. She was previously an Assistant Professor and Extension Dairy Specialist at Texas A&M University, Stephenville, TX.
For information about all Animal Sciences faculty, visit http://www.ansc.purdue.edu/faculty/.
Indiana Livestock Breeders Association Hall of Fame
Clyde Shaffer, Dr. Robert Duane McDavitt, and Dr. Kern Hendrix were inducted into the Indiana Livestock Breeders Hall of Fame at the Indiana state fair.

(L-R) Dr. Robert Duane McDavitt, Clyde Shaffer, and Dr. Kern Hendrix
Clyde Shaffer, Swine Seedstock Breeder, Albany, IN
Clyde Shaffer began his career as a Duroc breeder in 1964. With a small farm, Clyde and his wife started with a few gilts and a big dream. Between 1977 and 1985, Clyde won several State Duroc shows. In 1977 Clyde won the Outstanding Young Pork Producer Award. Clyde won the Ralph & Dora Bishop Award at Purdue for a boar named "Sound Investment" with high scores on performance. From 1979-1985, Clyde had the top purebred hog sale over all breeders in the United States. Between 1980 and 1983, Clyde had the most National Champions shown in the industry.
As a leader, Clyde has served on task force committees for the pork industry and the Duroc Association on the County, State, and National level. Clyde was President of Indiana Duroc Association two different times, President of Eastern Indiana Livestock Breeders, and Indiana Pork Producers Director for 15 years.
Clyde has judged several National Swine shows in the United States. Clyde has judged nearly every county fair in Indiana donating his fee back to the County 4-H program. Clyde says that he gets his greatest enjoyment teaching young boys and girls what to look for in their swine project and how to be good showmen.
In 1985, with his two sons and daughter, Clyde decided to change the business focus to seed stock production of boars and gilts for the commercial hog producer. Today, Clyde is President of the largest independent seedstock company in the United States, Shaffer Superior Genetics, selling boars, gilts, and semen to the industry.
Robert Duane McDavitt, DVM, Quarter Horse Breeder, Westfield, IN
Duane McDavitt has been a breeder of American Quarter Horses for 35 years. He has become known across the United States as a distinguished and respected breeder of Quarter Horses, with several foals that have accumulated hundreds of AQHA points. Other show winnings are far to numerous to mention.
Dr. McDavitt has been a practicing veterinarian specializing in horses north of Indianapolis since 1965. He has been the official veterinarian for several charity horse shows and the State Fair. He has a wealth of knowledge and is always willing to share that knowledge with breeders and competitors. Duane also educates the public through clinic tours and programs for 4-H, scouts, church and horse groups.
Always a leader, Duane has served as president of the Indiana Quarter Horse Association in 1987 and has been a director for over 30 years. He was a founding member of both the Indiana Reining Horse Association and the Indiana Equine Practitioners Group and served as president or chairman for several years of both organizations. Nationally, Duane has served as the vice chairman of the AQHA Nominating and Credentials Committee.
Congratulations and thank you to Dr. Robert Duane McDavitt for your leadership, unselfish devotion and dedication to the improvement of the Quarter Horse Breed and Quarter Horse organizations.
Dr. Kern Hendrix, Educator, West Lafayette, IN
Dr. Kern Hendrix, Professor Emeritus, Department of Animal Sciences, Purdue University, has dedicated his life to the education of current and past livestock breeders in the state of Indiana. This livestock industry professional is hard working and trustworthy.
For approximately 30 years, his work emphasized nutrition and management. Kern worked in cooperation with the Department of Agronomy on grazed and harvested forage in cow-calf and early post weaning phases of production.
The IBEP Bull Test Station was initiated in 1976 and Kern has worked with the program for 30 years. The IBEP assists seedstock producers in the identifying sires whose progeny excel in growth and carcass value and commercial beef producers in obtaining superior performance tested bulls which have been evaluated for growth, breeding and structural soundness and carcass merit. The program has evaluated more than 8300 bulls and over 4300 bulls have been sold to producers in 21 states.
Kern also served as co-coordinator of the Indiana Beef Evaluation and Economics Feeding (IBEEF) program. IBEEF provides Indiana producers with a way to place cattle on feed and gather performance, carcass, and economic information to make genetic and management improvements in their herd. Cooperators receive individual and group feedlot performance, feedlot costs, individual and group carcass information, including quality and yield grade, ribeye area, fat thickness, carcass weight, etc. IBEEF also allows producers to compare sires, as well as evaluate alternative marketing strategies and their impact upon profitability. The program also helps to improve the reputation of producers' cattle by establishing a database of feedlot performance and carcass merit on their calves. Since the beginning of IBEEF in the fall of 1997, over 150 cooperators have entered over 5100 steers and heifers into the program.
Congratulations and thank you to Dr. Kern Hendrix for your influence on the knowledge, integrity and skill of numerous Indiana livestock breeders.
Distinguished Animal Sciences Alumni
NEWS RELEASE
Sept. 3, 2007
Animal Sciences honors six individuals as distinguished alumni
WEST LAFAYETTE, Ind. - The Purdue University Department of Animal Sciences will present six individuals with the 2007 Distinguished Animal Sciences Alumni Awards.
"These six alumni have made significant contributions to their profession," said Alan Grant, head of the Animal Science Department. "Recognizing each provides an opportunity for our students to learn how alumni have led successful careers. We look forward to honoring these alumni for their outstanding achievements."
The award honors individuals who have demonstrated excellence in industry, academia or governmental service.
"Not only does the award give recognition, but also provides current students an opportunity to view the pathways to success taken by alumni," said Grant.
An awards ceremony takes place at 2 p.m. Oct. 26, in Lilly Hall in Room 3113 on Purdue's West Lafayette campus. The honorees also will be recognized at the Animal Sciences Alumni and Friends Homecoming Reunion on Oct. 27, in the Animal Sciences tent on the Purdue Memorial Mall.
The three recipients of the Lifetime Career Award are:

Bob Cherry, of Greenfield, Ind., earned his bachelor's degree from Purdue in 1969. Upon graduation Cherry was a vocational-agriculture teacher and then was a consultant in vocational education at the Indiana Department of Education. In 1976 Cherry started out as assistant county manager and by 1988 he became vice president of credit and marketing with Farm Credit Services. He is a member of the Elks, Kiwanis Club, Masonic Lodge, Scottish Rite, Murat Shrine and Farm Bureau. Cherry has received numerous "Legislator of the Year" awards from various organizations, including credit unions, small business and conservation officers. Cherry is currently State Representative for House District 53 since 1998 and the Director of Local Government Relations for Indiana Farm Bureau.

Martin Stob, of West Lafayette, Ind., received his bachelor's degree in 1949, his master's degree in 1951 and his doctorate degree in 1953 studying animal sciences at Purdue. He has dedicated his life to the education of animal science students and individuals in the livestock industry. For approximately 40 years, he taught the course "Animal Reproductive Physiology" at Purdue and has influenced the lives of approximately 4,000 students. A large number of those students have been and are now successful and influential livestock breeders. Stob was named "Outstanding Teacher in the School of Agriculture" in 1964, 1966, 1969 and 1970 and "Outstanding Counselor in the School of Agriculture" in 1977. He was named to "Iron Key" as a Purdue teaching faculty in 1972. In 2006, Stob was selected to the Indiana Livestock Breeders Association Hall of Fame. Stob is professor emeritus from Purdue.

Robert Totusek, of Oklahoma City, Okla., earned his master's in 1950 and doctorate degree in 1952 in animal nutrition from Purdue. Upon completion of graduate studies, he accepted a faculty position at Oklahoma State University and advanced through the academic ranks to professor of animal science and was head of the Animal Science Department at OSU. His research interests span a wide range of topics related to nutrition and management of beef cattle. Totusek served as OSU livestock judging team coach from 1953 to 1961. During this period his teams compiled a record of 11 first, 7 second and 4 third place teams at major national livestock judging contests. Nationally, Totusek was recognized as an outstanding beef cattle judge. Totusek has received awards and recognition as an outstanding teacher by Alpha Zeta, Blue Key and the OSU Alumni Association. He is an author or co-author of 21 journal papers and over 100 Feeders Day and popular articles. Totusek is professor emeritus from Oklahoma State University.
The two winners of the Mid Career Award are:

Christopher Knight, of St. Louis, Mo., earned his master's degree in 1977 and went on to complete his doctorate degree in 1981 in monogastric nutrition at Purdue. In 1981, Knight joined Monsanto Company in the area of methionine nutrition and metabolism and later began development, regulatory and nutrition research efforts in the area of somatotropin applications for swine. In 1991 he became the Manager and Director of Nutrition Research at Novus International, Inc. and led the evaluation, development and commercialization of several new business projects. He went on to receive the St. Louis Technology Award in 2003 for economic impact and innovation. Knight serves the St. Peters Episcopal Church, as a youth sponsor, Sunday school teacher, and on the education commission. Knight is currently serving as Department Head of Research and Development for Novus International, St. Louis, Mo.

Jerry Malayer, of Stillwater, Okla., received his bachelor's degree in 1979 and master's degree in 1986 studying animal sciences from Purdue. Malayer is a member of the American Association for the Advancement of Science, the Society for the Study of Reproduction, and Phi Zeta, the honor society of veterinary medicine. He currently serves on the Editorial Board for Domestic Animal Endocrinology, the Advisory Review Board for Reproductive Biology and Endocrinology, and has been a scientific reviewer for numerous professional journals and funding agencies including the National Science Foundation, Department of Homeland Security, and the U. S. Department of Agriculture. In 2006, Malayer was selected for the American Council on Education Fellows Program, a national higher education leadership development program. Malayer is the associate dean for research and graduate education in the Center for Veterinary Health Sciences at Oklahoma State University.
The recipient of the Early Career Award is:

Scott Thompson, of Sheridan, Ind., completed his bachelor's degree in 1993 and his Doctorate of Veterinary Medicine in 2000 from Purdue. He currently serves as President of the Indiana Equine Practitioners Association, and is a member of the American Association of Equine Practitioners, Indiana Veterinary Medical Association, and the Veterinary Management Study Group VII. Thompson is on the Hamilton County Board of Health, and contributes to the local community through public speaking opportunities and hosting client education events at Janssen Veterinary Clinic. He has been invited to speak at the Indiana Horsemen's Conference, the Hoosier Horse Fair, Trail Riders Association Conference and Purdue Equine Reproduction Workshop. Thompson has been recognized for his exemplary work by receiving the Indiana Veterinary Medical Association Excellence in Continuing Education Award, the Superior Proficiency in Large Animal Medicine Surgery Award, and was recognized by Pharmacia and Upjohn in 2000. Thompson is the owner of Janssen Veterinary Clinic.
Writer: Elizabeth Fritz, (765) 494-8402, elfritz@purdue.edu
Sources: Alan Grant, (765) 494-9346, agrant@purdue.edu and Barry Delks, (765) 496-7234, delks@purdue.edu
Tasia Taxis spent the spring semester studying at Lincoln University in New Zealand. She had several new experiences such as cutting the antlers off of a red stag, putting her arm in a fistiulated cow, and travel to several New Zealand farms to learn about their practices, along with learning massive information about wee lambs and claves.
New Zealand agriculture varies greatly from that of the US. It was a great experience to see beef and sheep operations run on paddocks and pasture, with little to no grain supplementation. Dairies use rotational grazing and rotary milking parlors, and the biggest worries are about methane release and nitrogen leaching. There is no need for pre and post teat dipping in dairy cattle, because many of the diseases that occur in the US aren't prevalent in New Zealand. There are also few worries of BSE occurring due to their pasture based system. Tasia enjoyed seeing these differences and their effects on the people, the countryside, and their way of life.
Tasia also enjoyed living as a Kiwi this spring. She said, "The Kiwis are an amazing group of people to live amongst. They have this "no worries" attitude, where everything will be right. It was a big change from the hustle and bustle of American life."
The Rocky Mountains were invaded by Boilermakers this summer. Four Purdue Animal Science students headed out to Colorado to work on Dude Ranches and a camp. Ryan Schroder and Audra Hull both worked as Wranglers in Estes Park, Colorado. Ryan worked for Lane Guest Ranch, and Audra worked for Cheley Colorado Camps. Brady Thompson and Erika Richardson worked at Deer Valley Ranch in Nathrop, Colorado, Brady as a Wrangler and Erika in the office. Brady, Ryan and Audra were working with and caring for their ranch's herd of horses. Brady also was working with mules, leading rides for the guests. The wranglers were putting their pre-vet skills to work by helping with routine visits from the vet and treating the injured horses daily. It has been a great and unique experience for all of them.
Animal Sciences Homecoming Reunion
Saturday, October 27, 2007, 8:00 A.M.–11:00 A.M.
Breakfast Buffet by Shoup's Country Catering
The Animal Sciences Department faculty and staff invite you to join us at our reunion tent for wonderful food and fellowship before the game. Whatever your affiliation with the Purdue Animal Sciences program, we want you to feel welcome at the reunion. Up-to-date schedules and details can be found at http://www.ansc.purdue.edu/alumni/
Our Reunion tent will be at the north end of the Memorial Mall, convenient to parking in the Marsteller or University Street Garages. A pre-game breakfast buffet prepared by Shoup's Country Catering is planned and will include Indiana pork donated by Indiana Packers Corporation. Additional sponsors include Indiana Farm Bureau, Indiana State Poultry Association and Smithfield Foods. Brunch will be followed by a brief welcome by Department Head, Alan Grant, recognition of the 2007 Indiana Livestock Breeders Association Hall of Fame honoree, as well as introduction of our 2007 Animal Sciences Distinguished Alumni. There will be special seating and recognition of those celebrating their 25th and 50th anniversaries of their Purdue graduation (classes of 1957 and 1982), as well as members of the '57 and '82 Judging Teams.
The homecoming game will match the Boilermakers against the Northwestern Wildcats. There will be a limited number of football tickets available at a group rate, so you'll have to order early. See the registration form on the opposite page.
If you need more information or have questions about the game tickets, contact the Ag Alumni Association at phone (765) 494-8593 or fax (765) 494-9626.
Send in your registration today and make plans to join us for all the homecoming fun!
If you are member of the Animal Sciences Genetics Alumni of Purdue University, i.e., you are a former genetics graduate student or postdoc of Drs. Earl Bell, Ben Bohren, Don Doolittle, Dewey Harris, Wendell Kyle, or Truman Martin, you and your guests are invited to a reunion of Genetics Alumni that will be held in conjunction with the Purdue University Animal Science Department Homecoming Event on Saturday October 27, 2007. In addition, a dinner at Maize Catering is planned for 6:30 pm that evening.
Eighteen (18) rooms have been reserved for us in the name of Genetics Alumni at the Fairfield Inn (4000 State Road 26 East, Lafayette, IN; phone: 1-765-449-0083). The discounted price for this homecoming weekend is $139 + tax per night, and a two-night minimum stay is required during a three-day span (26-28 Oct.). Rooms are being held until October 1. Reservations should be made directly with the hotel (mention Genetics Alumni); be prepared with a credit card number to guarantee the room.
If you know someone whose should be on the list, please let us know so we don't miss anyone. If you also know of former students who may not be receiving the Purdue Animal Science Alumni Newsletter, please inform them about the planned reunion.
If you plan to be there, you need to complete the registration form which is part of the Animal Sciences Reunion registration form at http://www.ansc.purdue.edu/alumni/. You can find directions to Maize Catering on that web site also.