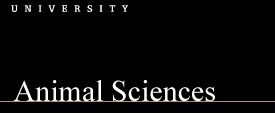 August 2008 ANSC Alumni Email Newsletter
INDEX of NEWS
Greetings from Purdue Animal Sciences!
The Animal Sciences Department faculty and staff invite you to join us at our reunion tent for Homecoming, Saturday, October 25. The deadline for football tickets is Friday, September 5 and for the ANSC Reunion brunch, Friday, October 10. See the article below for more information; up-to-date schedules and details can be found at http://www.ansc.purdue.edu/alumni/
Hope to see you at Homecoming. Go Purdue!
Indiana Livestock Breeders Association Hall of Fame
Guy Jackson and Dr. John Johnston were inducted into the Indiana Livestock Breeders Hall of Fame at the Indiana state fair.

(L-R) Dr. Alan Grant, Guy Jackson, Dr. John Johnston, and Robert Benson
Guy Jackson, Duroc Breeder, Warren, IN
Guy Jackson has been involved in the livestock industry all of his life and increased his Duroc sow herd to 35 sows after his high school graduation in 1956. The herd has been a closed herd since 1983. Commercial producers and foreign buyers have liked the concept of a closed herd and Guy has supplied replacement gilts and boars to hundreds of producers in this country, and has sent hogs to 10 foreign countries. Herd sires like Master Charge, Columbus Big Bear and JJ Pride have left Guy's mark on the Duroc breed. Guy has received the "Paul Parrish Breeding On" Award, had Hog College gilt in 1995 and had many other awards and champion hogs.
As a leader, Guy has served on several committees as an officer for the pork industry and the Duroc Association on the County, State, and National level. Guy was President of Indiana Duroc Association in the early 1980's, President of the National SPF Board, and has been an active leader on the Huntington County Swine Boosters Executive Committee. He served on the National Duroc Board of Directors from 1989-1994 and as President at the time, Guy cast the deciding vote to join with other breeds. This insightful decision, led to the formation of the National Swine Registry that has flourished and served the swine industry ever since.
Guy supports several areas in the community including judging swine shows and supporting the 4-H and FFA youth programs. He is active as a moderator and he is on the Board of Deacons and Trustees at the United Church of Christ. He is a member of the Joy Pleasures Clown Group that performs at local nursing homes and hospitals.
Dr. John Johnston, DVM, Animal Health Advocate, Indianapolis, IN
Dr. John Johnston has dedicated much of his career to the eradication of Pseudorabies virus (PRV) from the Indiana Swine population. This livestock industry professional is hard working, trustworthy, leader of the animal health industry.
In 1994, Dr. Johnston joined the Indiana State Board of Animal Health as the Director of Swine Health Programs. At the time, nearly 1000 swine farms were under quarantine for PRV. Through Dr. Johnston's leadership and tireless efforts he worked with all stakeholders to successfully eradicate PRV.
This eradication process was not an easy task, particularly when the Accelerated Pseudorabies Eradication Program (APEP) was launched, which required the depopulation of many Indiana operations. Dr Johnston clearly understood the impact the program would have on the producers and insisted that the program minimize the emotional and financial impact on the producers.
Through challenging times during the eradication effort, it was Dr. Johnston's steadfast, thoughtful, deliberate manner that allowed the program to succeed. Disease eradication without eradicating the producer was always his goal. Dr. Johnston met and exceeded his goal.
Chinese Students Learn About Animal Sciences
Department of Animal Sciences, Alumni and Novus collaborated for a three-day Industry Tour for visiting Chinese students.
Photos from the industry tour are online at: http://www.ansc.purdue.edu/events/ChineseJuly2008/.
Twenty students from Zhejiang University in China and three students from National Taiwan University in Taiwan joined 12 students participating in internships with Novus for a 3 day industry tour.
Dr Heng-Wei Cheng and Barry Delks from Purdue collaborated with Dr Chris Knight (Animal Science Distinguish Alum) to organize a cultural and industry networking opportunity for the visiting students.
Elanco sponsored lunch for the students at Fair Oaks Dairy and Purdue College of Agriculture Alumni spoke to students about careers and contemporary issues in the Animal Science Industry. Other stops included the Kent Need farm in Rossville, Belstra Milling, Waukaru Farms near Rensselaer, and the Purdue School of Veterinary Medicine.
Barry Delks, Coordinator for Career Services, Animal Sciences said, "This was a great opportunity for these enthusiastic, bright students to learn more about the animal science industry as well as the culture in Indiana".
Purdue Alumni participating included: Kent and Kathy Need, Rossville; Jim Need, President of Regions Bank; Malcolm DeKryger, Vice President of Belstra Milling; Ryan Millet, Elanco, Beef Marketing; Pam Amstutz, Elanco, Sales Representative; and Barry Jordan, Waukaru Farms.
Animal Sciences Student Studies Abroad Down Under
Katie Jardina, a Junior in Animal Sciences/Pre-Veterinary Medicine, is currently in Australia. The photo was taken at the Lone Pine Koala Sanctuary in Brisbane, with Katie holding a koala named Bagel. Here is what Katie says about her experience:
G'day Mate! I am currently in Gatton Shire, Australia for a one semester study abroad/student exchange program. I left the U.S. in the beginning of July and started my classes here at the University of Queensland-Gatton Campus on July 21, 2008. I am currently studying Captive Wildlife Husbandry, Animal Health & Epidemiology, and Behaviour and Management of Animals in Society. Each of these courses is based on a "hands-on" curriculum in which I get the opportunity to experience the Australian wildlife and captive animals in a real sense. With these courses, we take excursions to various Australian zoos and nature centres and get to go behind the scenes and in off-limit enclosures to learn the husbandry and management of the wildlife. On the side, I am able to travel the country and experience and learn the lifestyles and culture of the Aussies! I will finish the semester on November 15 and take two weeks to travel and will return home to the U.S. on Thanksgiving Day, November 27.
From May 13 to May 17, 20 Purdue University students participated in an educational immersion in the dense horse industry of central Kentucky. Students learned about career opportunities and needs of the racehorse industry from top business, veterinary, and farm management professionals while visiting leading farms, veterinary facilities, training centers, race tracks, feed manufacturers and other support businesses in Lexington, KY. The group visited farms owned by companies from Ireland, Saudi Arabia, Emirates Arab Republic, and Germany as well as traditional Kentucky-owned historic farms including Claiborne, Overbrook, Calumet and the breeding home of BIG BROWN, Three Chimneys, In addition to farms, the group visited Keeneland. Fasig-Tipton, University of Kentucky, Kentucky Equine Sports Medicine and Rehabilitation Center (KESMARC), Kentucky Equine Research (KER) where Lynn Pezzanite (current senior) was interning this summer. Students also attended a Kentucky Equine Managers Internship workshop on biomechanics of hoof movement with current KEMI intern Sara Kaniewski who is at Trackside Farm.
They visited with Purdue alumni including Warren Giegold, Kristen Brodt, Nikki Holbrook, Sara Weed, Jennie Rhodes, Russell Wiggins, and Drs. Mike Hardy and Will Farmer. On the way home the group even visited a great American Saddlebred Farm, Willowbank Farm, in Simpsonville, KY and attended the afternoon meet at Churchhill Downs where some stayed and watched the Preakness. Overall, the students came away with a better understanding of the available careers and internships opportunities. Students Increased their appreciation for the major challenges in the race horse industry including breeding selection, training, reproduction, feeding, and marketing.facing the future of the race horse industry in the U.S. and globally. The group was accompanied by Barry Delks and Mark Russell.
The 2008 Book-Harmon Leadership Forum will be held September 23 in Deans Auditorium, Pfendler Hall. The speaker will be Dr. Don Orr, President of JBS United, Inc.
JBS (formerly United Feeds) is a nutrition technology-based company involved in premix/base mix feed production and marketing, enzyme and probiotic marketing, swine production, and grain storage and marketing. Founded in 1956, JBS United operates six premix/base mix feed plants in the U.S, along with a joint venture at Qingdao, China. Don has served as Corporate President since 1997, and he led its Nutrition Division from 1997 to 2007. From 1984 to 2002, Don headed the company's R&D program. Since 1993, he has led JBS United in marketing products in Asia.
Don received his B.S. in Animal Science from Purdue, M.S. from Penn State University, and Ph.D. from Michigan State University.
Don has been an invited speaker at numerous events in the U.S., as well as Asia, Europe, Brazil, Canada and Mexico. Don was recognized as a Distinguished Agricultural Alumnus by Purdue University and is the recipient of the "Old Masters" Recognition. In 2006, Don was named Distinguished Animal Science Alumnus at Penn State University. Don was also selected as one of the 25 Pacesetters for the '90's by Hogs Today magazine.
Schedule on September 23 (Deans Auditorium, Pfendler Hall):
12:00-1:00 pm - Graduate/Faculty Seminar, "Leadership Qualities Needed for Research and Industry"
1:30-2:30 pm - Undergraduate Presentation, "How to Succeed at Your First Job"
2:30-3:00 pm - Questions & Answers
3:00-4:00 pm - Reception, Pfendler Gallery
The Book-Harmon Leadership Forum is sponsored by the Department of Animal Sciences, The Office of Academic Programs, The College of Agriculture, Maple Leaf Farms, and Monsanto Company.
Animal Sciences Homecoming Reunion
Saturday, October 25, 2008, 8:00 A.M.–11:00 A.M.
Breakfast Buffet by Shoup's Country Catering
The Animal Sciences Department faculty and staff invite you to join us at our reunion tent for wonderful food and fellowship before the game. Whatever your affiliation with the Purdue Animal Sciences program, we want you to feel welcome at the reunion. Up-to-date schedules and details can be found at http://www.ansc.purdue.edu/alumni/
Our Reunion tent will be at the north end of the Memorial Mall, convenient to parking in the Marsteller or University Street Garages. A pre-game breakfast buffet prepared by Shoup's Country Catering is planned and will include Indiana pork donated by Indiana Packers Corporation. Additional sponsors include Indiana Farm Bureau, Indiana State Poultry Association, Novus International and Smithfield Foods. Brunch will be followed by a brief welcome by Department Head, Alan Grant, recognition of the 2008 Indiana Livestock Breeders Association Hall of Fame honorees and announcement of the 2008 Animal Sciences Distinguished Alumni. There will be special seating and recognition of those celebrating their 25th and 50th anniversaries of their Purdue graduation (classes of 1958 and 1983), as well as members of the '58 and '83 Judging Teams.
The homecoming game will match the Boilermakers against the Minnesota Golden Gophers. There will be a limited number of football tickets available at a group rate, so you'll have to order early.
If you need more information or have questions about the game tickets, contact the Ag Alumni Association at phone (765) 494-8593 or fax (765) 494-9626.