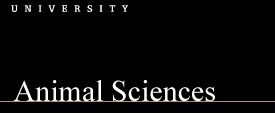 August 2009 ANSC Alumni Email Newsletter
INDEX of NEWS
Dr. Grant Leaving Purdue Animal Sciences
Dr. Alan Grant, head of the Department of Animal Sciences, will be leaving at the end of September. On October 1, he becomes Dean of the College of Agriculture and Life Sciences at Virginia Tech.
Virginia Tech Senior Vice President and Provost Mark McNamee said, "Alan Grant has an impressive record of teaching, research, outreach, and administrative accomplishments. I am excited about his vision for future growth and development of the college, which will ensure the college's continued excellent standing among its peers. He will build on the organizationís strong foundation to further grow our programs for agriculture and the environment, food and health, life sciences, and learning. I look forward to his joining our leadership team."
When asked to reflect on his years at Purdue, Alan said, "My family and I are very grateful for being part of the Purdue community for the past 19 years. Serving as department head for the last eight years has been very exciting and rewarding. I have especially enjoyed my interactions with alumni and friends of the department. It is the on-going support from our alumni and friends that contributes to so much of the departmentís success as it serves its students and the industry. The Department will be in great hands with the 'soon-to-be-named' interim department head and with strong leadership from the faculty, staff, and students."

Animal Sciences Homecoming Reunion
The Animal Sciences Homecoming Reunion will be Saturday, October 3 from 8:00 - 11:00 am. The Purdue Animal Sciences faculty, staff, and reunion co-chairs - Bill Palmore (BS '59) and Terry Hayhurst (BS '84) - invite you to join us at our reunion tent for wonderful food and fellowship before the game. All friends of Purdue Animal Sciences are welcome!
The deadline for football tickets was September 1, and the deadline for meal tickets is September 15. The order form is available at http://www.ag.purdue.edu/ansc/Pages/Alumni.aspx, or call the Ag Alumni office at 765-494-8593 to place your order.
Schedule of events:
8:00 am - Check-in at Tent and visiting
9:00 am - Shoup's Breakfast Buffet (reservations required)
10:00 am - Program

Present two ARPAS Distinguished Professional Animal Scientist Awards
Recognize 2009 Indiana Livestock Breeders Association Hall of Fame
Announce 2009 Animal Sciences Distinguished Alumni
Recognize Graduating Classes and Judging Teams from 1959 and 1984

11:00 am - March to Stadium
12:00 noon - Kick-off, Purdue vs. Northwestern
We hope to see you there!
Indiana Livestock Breeders Association Hall of Fame
Leslie Carmichael and Steve Nichols were inducted into the Indiana Livestock Breeders Hall of Fame at the Indiana state fair.

Honorees (L-R) are Leslie Carmichael and Steve Nichols
Leslie Carmichael, Angus Breeder, Bloomington, IN
Leslie Carmichael has exhibited at the Indiana State Fair for 58 consecutive years and has promoted Angus cattle almost all of his life at shows across the country. Les was a founding member of the Indiana Junior Angus Association in 1959 and has continually been active and supportive in the Indiana Angus Association throughout the years. He has served many decades on the board of directors and several committees. Currently, Les serves as the Constitution and By-laws Chairman and is the parliamentary expert for the association.
As a breeder, the cow herd has not been great in numbers but has impacted the herds in the southern part of Indiana through the private treaty sales and the CAF Cindy M450 cow family has genetics in over 15 herds. Les believes strongly in phenotype and on the farm performance testing of livestock. He is a big supporter of the Indiana Beef Evaluation Program tests. Off the farm, Les and Sandy have a concession trailer that utilizes CAB beef to promote the breed of cattle.
Les graduated from Purdue University in 1963 with a B.S. degree in Animal Science and a M.S. degree in Agronomy in 1971. He worked in Extension for a short time and is an advocate for judging and other youth livestock activities. He has served as an official and stock provider for many 4-H and high school judging contests. He has been a leader in the IBCA and received the Indiana Historic Angus Award in 2005.
Steve Nichols, Extension Swine Educator, Delphi, IN
Steve Nichols has dedicated his life to the education of swine and livestock producers in the state of Indiana. For over 30 years, his work emphasized the economic development for pork producers and the Agriculture Associations and fair boards across the state. He led the development of the emergency addressing system for rural areas to ensure that responders are better prepared for any emergency that might occur in Carroll County. He has served on countless state and national swine boards. A true leader and community advocate, Steve has received the Sagamore of the Wabash Award, which is the highest honor the Governor can bestow on a civilian of Indiana.
Steve has also served as a leader in the swine industry as a breeder of Duroc hogs. The hogs that he has produced have won several county and state fairs across the nation. He started raising Duroc hogs as a youth and continued while receiving his B.S. and M.S. at Purdue University and was a member of the Livestock Judging Team.
With livestock judging as a passion, Steve is now one of the most well known swine judges in the country. He has judged swine in almost every state and every major show in the nation. He is known for his great work with the youth and his fair evaluations of the livestock.
In 2006, Steve retired from the Purdue Extension Service, but continues to work closely with swine producers on their comprehensive nutrient management plans for confinement operations.
New Faculty - Dr. Jon Schoonmaker
Dr. Jon Schoonmaker joined the Department of Animal Sciences on July 1, as an assistant professor in the beef cattle nutrition area. Dr. Schoonmaker grew up in southern Wisconsin. He received his B.S. in Meat and Animal Science from the University of Wisconsin-Madison, and his M.S. and Ph.D. from The Ohio State University in the area of ruminant nutrition/beef cattle nutrition. He did a post-doc st Iowa State University looking at genetic regulation of fatty acids in beef and dairy cattle.
Dr. Schoonmaker's research interests are lifetime nutritional factors affecting intramuscular fat deposition, muscle growth, health status, and production efficiency in beef cattle.
Block & Bridle Royal Showmanship Contest
On behalf of the Purdue University Block & Bridle club, animal science and other Purdue alumni interested in showing livestock are invited to attend the 2009 Purdue University Royal Showmanship contest. This year will mark the 61st annual event and will feature an alumni/faculty showmanship class in the beef division. The contest will be held on Friday, October 2, 2009, (the Friday of Purdue's Homecoming weekend) at the Purdue Animal Sciences Research & Education Center toolshed beginning at 5PM local time. Purdue students will compete against one another in equine, dairy, swine, sheep, and beef showmanship classes. In addition to the contest, Block & Bridle will recognize this year's Honorary Member who will also judge the alumni and faculty showmanship class. Additional information on the Royal can be found at www.blocknbridle.com or contact Katy Bailey, kjbailey@purdue.edu, with questions. Please come out for a Purdue tradition and an evening of livestock, good company, and a social held afterwards!
The 2009 Book-Harmon Leadership Forum will be held Wednesday, October 14. The speaker will be James L. Herbert.
Jim Herbert is President, Chief Executive Officer and founder of Neogen Corporation, which develops, manufactures and markets a diverse line of products dedicated to food and animal safety in Lansing, Mich. Since its founding by Jim in 1982, Neogen has pioneered rapid diagnostic testing and offers more than 400 products for food and animal safety. The test kits have gained worldwide use and acceptance, and now serve as the "gold standard" for numerous domestic and international regulatory agencies and industries. Neogen has been named as one of Forbes Magazine's 200 Best Small Companies in America, and was named in 2009 by Forbes Magazine as one of the 100 Fastest Growing Small Companies in America. Jim serves on Michigan's Agriculture Policy Committee and on the Board of Directors for the Michigan Strategic Fund, both appointed by the Governor of Michigan. Jim graduated from the University of Tennessee in 1963 with a double major in animal science and journalism. He and his wife, Judi, reside in Lansing, Michigan, and have a son and daughter.
The Forum will be held in the Deans Auditorium, Pfendler Hall:
12:00 - 1:30 pm - Open Seminar, "What Choices You Make: Trust is Earned"
3:00 pm - Reception, Pfendler Gallery
3:30 pm - Graduate Student/Faculty Seminar, "Developing Leadership Skills: Hope is Not a Strategy"
4:30 - 5:00 pm - Questions and Answers
The Forum is sponsored by: The Department of Animal Sciences, The Office of Academic Programs, The College of Agriculture, Maple Leaf Farms, and Monsanto Company.
Distinguished Animal Sciences Alumni Awards Program
The 2009 Distinguished Animal Sciences Alumni will be announced at the Homecoming Reunion. The Awards Presentation will be held Friday, November 13 at 2:00 pm.
Student Seeking Assistance Dog

Dr. Rod Allrich and Mac Mendell
The Animal Science Ambassadors organized efforts last spring to raise funds to support the purchase of a leader dog through Canine Companions for Independence for Mac Mendell, one of the students in the department who is affected by epilepsy. Canine Companions for Independence is a non-profit organization which provides highly trained assistance dogs and ongoing support to people with disabilities. As CCI is entirely funded by private contributions, all CCI dogs are provided free of charge. However, to receive a dog, applicants must complete a two-week long Team Training program at one of several CCI training centers across the country. The goal of the Ambassadors' fundraising efforts was to raise enough money to cover any expenses Mac might incur while enrolled in this training program.
With the help of the Block & Bridle and Pre-Vet Clubs, the Ambassadors put on a semiformal dance for students in the College of Agriculture to directly benefit Mac's purchase of a dog. Dr. Rod Allrich was instrumental in supporting the effort to raise funds for Mac. Through the proceeds from ticket sales for the dance and generous donations of College of Agriculture clubs, funds totaling $2502 were raised to cover the expenses of purchasing a leader dog. We wish the best of luck to Mac in his purchase of a dog, and we hope that he brings it to visit at one of our meetings!
Purdue Agricultures Magazine highlights research, extension, and teaching at Purdue. Issues can be viewed on their web site at http://www.agriculture.purdue.edu/agricultures/. You can also receive a copy of the magazine by mail. If you are not receiving Agricultures and would like to, you can subscribe on their web site or send an email to agricultures.magazine@purdue.edu.