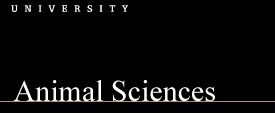 December 2001 ANSC Alumni Email Newsletter
The Department of Animal Sciences
Purdue University
Alumni and Friends Email Update
http://www.ansc.purdue.edu/
Greetings from the Department of Animal Sciences!
We hope this newsletter finds you doing well.
This is the second Department of Animal Sciences email update. The purpose of this email is to provide a very brief update of departmental activities.
If you would like to provide an email address for others to be added or you would like to be removed from the list, please reply to delks@purdue.edu.
If you do not have time to read the entire newsletter, page down to the numbered article that you are interested in reading.
INDEX of NEWS
Dr. Alan Grant continues to serve the Department as Interim Head. Dr. Grant has been juggling teaching, research and the administrative duties of the Head. Dr. Grant has been doing an excellent job and enjoys the new responsibilities.
The search committee is making good progress and is enthused with the pool of candidates. The committee hopes to start interviewing candidates in early 2002.
After 35 years of service to the Department of Animal Sciences and Purdue University, Dr. Paul Malven retired this past summer. A reception was held and many friends and colleagues joined to celebrate his illustrious career in reproductive neuroendocrinology.
Dr. Scott Radcliffe
Scott grew up on the eastern shore of Maryland. He received his B. S., M. S., and Ph. D. from Virginia Tech under the guidance of the late Dr. E. T. Kornegay. In May of 2000, he was hired onto the faculty of Virginia Tech, where he remained until recently, when he accepted a position in the Department of Animal Sciences at Purdue University. His research has focused on nutritional strategies that minimize the environmental impact of swine and poultry production.
Dr. Ron Lemenager heads up the Five State Beef initiative. This program is charged with the development of a regionally coordinated (IL, IN, KY, MI, OH) beef production and marketing system that will consistently meet consumer expectations for high quality beef and increase producer profits. See this site for details: http://www.5statebeef.org/
Dr. Chris Bidwell and Dr. Rebecca Krisher taught CLONES AROUND THE CORNER as part of President Jischke's invitation to have alumni and friends back on campus to receive insight from Purdue professors. More than 30 people enjoyed the presentation on the potential benefits of cloning to the animal industry. To learn more about the research Drs. Bidwell and Krisher are involved in, see their individual web sites at:
http://www.ansc.purdue.edu/faculty/bidwe.htm
http://www.ansc.purdue.edu/faculty/krisher.htm
To view the photos from Homecoming go to: http://www.ansc.purdue.edu/events/homecoming/2001/
It was a great day for family, friends and alumni.
Wayne Yake and Bob Benson were inducted as the new Hall of Fame Honorees.
WAYNE YAKE
Salem, IN
Wayne has shared much success in the swine industry while managing breeding stock at Lynnwood Farms and Purdue's Boar Test Station. During Wayne's management, Lynnwood Farms produced many National Champion Berkshire boars and gilts. Wayne has taken on many leadership roles during his employment at Purdue and within the Indiana and National Berkshire Association.
Congratulations and thank you to Wayne Yake, a leader, an educator and an excellent Berkshire Breeder.
ROBERT L. BENSON
Noblesville, IN
Bob Benson has served as a key resource for the education, development and progress in agriculture since his graduation from Ohio State University in 1956. Bob Benson is an avid breeder of Shropshire sheep. He has served as a leader and delegate for the Indiana Sheep Association on many occasions. Bob Benson also enjoys his responsibilities with the Hamilton County Sheep Producers and the Indiana State Fair.
Bob Benson is a true leader and builder of the Indiana Sheep Industry. Congratulations and thank you to Bob from the ILBA.
Dr. Jack Albright added to the fun by donating a 1951 Chicago International Show Pennant. Auctioneer Ken Culp rallied the group and Bob Peterson (judging team 1951) purchased the pennant with proceeds going to the Livestock Judging Team.
See photos at: http://www.ansc.purdue.edu/events/homecoming/2001/
Bob Peterson helped Dr. Alan Grant welcome the 1951 Judging Team at Ag Tailgate. Members that were present and recognized included George Daigh, Dick Heckel, Ellis Kline, Alan Myers, and Bob Peterson.
9. UPDATE ON 2001 JUDGING TEAM
World Beef Expo
Top Sheep Individuals
3. Kyle Gillooly, Purdue
Top Swine Individuals
3. Molly Mader, Purdue
Top Beef Individuals
4. Kyle Gillooly, Purdue
Top Reasons Individuals
2. Kyle Gillooly, Purdue
Top Overall Individuals
2. Kyle Gillooly, Purdue
Top Ten Sheep Teams
8. Purdue 1113
Top Ten Swine Teams
2. Purdue 1368
Top Ten Beef Teams
5. Purdue 2048
Top Ten Reasons Teams
7. Purdue 1759
Top Ten Overall Teams
1. KSU 4572
2. MSU 4562
3. Western IL 4556
4. Purdue 4529
Dr. Mark Diekman, Undergraduate Program Chair, is delighted to report the current number of undergraduate students is nearly 400.
The science option is the most popular with 270 students enrolled and the majority specializing in pre-veterinary medicine. Approximately 60 students are enrolled in the Production/Management option, and 70 students are enrolled in the Agribusiness option. Enrollment has increased slightly in the Biotechnology specialization.
Among the undergraduates in the fall of 2001, 75 % are female and 25% are male. Nearly 90% of the Animal Sciences undergraduate students are from Indiana. The Department offers more than 50 courses with an annual enrollment of over 2,300 students. In addition there are 60 graduate students in the Department.
11. CAREERS IN ANIMAL SCIENCES
Opportunities have been great for new graduates. Salaries increased 18% from 1999 to 2000 and another 7% from 2000 to 2001. Average salaries for undergraduates are nearly $32,000. Students are obtaining a variety of careers including positions in products, production, and animal agribusiness, to new opportunities in research and biotechnology and animal caretakers with exotic animals. For the past three years nearly 20% of our graduates have been accepted in veterinary medicine programs.
If you are looking for new employees or would like to post a job contact Barry Delks or see this website: http://www.agriculture.purdue.edu/anscjobs/
Would you like to link your company to our ANSC Career website? Send Barry Delks your company information with permission and we will add it for our students and alumni to use. See the current employer list at: http://www.agriculture.purdue.edu/anscjobs/BusOrg.html
12. SCHOLARSHIPS AND STUDY ABROAD
International experience is becoming more important each year. Companies are looking for students who can speak a second language, are familiar with another country or have international travel experience. If you are interested in helping Animal Sciences students STUDY ABROAD by providing scholarships for travel expenses, please contact Barry Delks at delks@purdue.edu or 765-496-7234.
Outstanding Animal Sciences Alumni Award
Nominees will have earned a Bachelors, Masters or Ph.D. degree in Animal Sciences from Purdue University. Nominees must have received their first degree at least ten years prior to being nominated.
Successful nominees will have demonstrated excellence in industry, academia, governmental service, or other endeavors related to animal sciences or an affiliated profession as exemplified by leadership and accomplishments.
Nominations should be submitted by February 1, 2002. For more information and a nomination form, contact Barry Delks at delks@purdue.edu or 765-496-7234.
PURDUE UNIVERSITY
http://www.purdue.edu/
ANIMAL SCIENCES
http://www.ansc.purdue.edu/
SPORTS
http://www.purdue.edu/Sports/
http://www.boilerstation.com/
BOWL GAME
http://atoffice-02.athletics.purdue.edu/index.html
If Purdue receives a bid to a bowl, the Athletic Ticket office and the Purdue Alumni Association will begin sales on Sunday, Dec. 2 at 11:00 a.m. through 5:00 p.m. These sales will continue through the following weeks. The Bowl Hotline number is 1-800-927-4177 or 496-6300.
CHRISTMAS AT PURDUE
http://www.purdue.edu/PMO/generalinformation/ChristmasShow/Index.htm
PURDUE CALENDAR
http://www.purdue.edu/calendar/
JOBS
http://www.adpc.purdue.edu/Personnel/job-home.htm
STAY IN TOUCH
If you have news that you want to share with your friends in the Department or on this email list, send your news to delks@purdue.edu
Best wishes and GO Boilers!