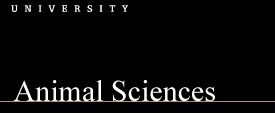 December 2004 ANSC Alumni Email Newsletter
INDEX of NEWS
Livestock Judging Team
Dairy Judging Team
Ambassador Update
Graduate Student Association
Livestock Judging Team
Coach: Matt Claeys
The Purdue University Livestock Judging Team had a great start to the Fall season.
Team members, all from Indiana, are:
| Team Member | Home Town |
| --- | --- |
| Brian Arnold | Liberty Center |
| Andon Boocher | North Manchester |
| Luke Bowman | Green Fork |
| Josh Chastain | Mitchell |
| Jason Corya | Commiske |
| Jacob Hege | Columbus |
| Jeremy Jones | Bluffton |
| Garrett Kelly | Thorntown |
| Justin Rodibaugh | Rensselaer |
| Amanda Schaekel | Hagerstown |
| Tanner Schwartz | Rossville |
The National Barrow Show, held in Austin, Minnesota, was the first outing of the fall. The team won the reasons division and finished third overall. Brian Arnold won reasons and was High Individual Overall. Tanner Schwartz finished eighth Overall and tenth in reasons. Justin Rodibaugh finished fifth in reasons.
The next chance to compete came at the World Beef Expo in Milwaukee, Wisconsin. The team was High Team Overall and won the Beef, Sheep and Swine Divisions, while placing third in reasons.
Overall contest individual standings for Purdue were: Brian Arnold was second high individual; Jeremy Jones fifth high; Andon Boocher ninth high individual; and Jacob Hege finished twelfth.
Beef Division: Brian Arnold was first, Tanner Schwartz was eleventh, and Andon Boocher was twelfth.
Swine Division: Jeremy Jones was high individual, Justin Rodibaugh was ninth, Brian Arnold eleventh and Andon Boocher twelfth.
Sheep Division: Brian Arnold was second, Jeremy Jones was fourth, Andon Boocher eleventh and Amanda Schaekel was twelfth.
Reasons Division: Brian Arnold won the division, Jeremy Jones was third, and Tanner Schwartz was tenth.
Kansas City and Louisville were trips of refocusing after the early success. At the American Royal, Brian Arnold had a good day placing second in sheep, reasons and overall, while placing third in swine and eighth in cattle. Jeremy Jones finished 20th in reasons. The team placed seventh in sheep and swine, tenth in reasons and eleventh in cattle and overall.
At the North American the team placed tenth in sheep, ninth in swine, fourteenth in cattle, eighth in reasons and twelfth overall. Brian Arnold won the reasons division and Jeremy Jones placed ninth in cattle.
The team had a good year. They all have exhibited a willingness to assist with the next team. It is good to see students who want to give back to a program that has helped them.
Dairy Judging Team
Coach: Steve Hendress
The Purdue Dairy Judging Team has concluded the season of competitions for 2004. The team traveled from Purdue to several states including Maryland, Wisconsin, and Kentucky. They competed in the Accelerated Genetics Contest, World Dairy Expo Contest (Nationals) and the NAILE Contest.
Members of the team were:
| Team Member | Year | Major | Home Town |
| --- | --- | --- | --- |
| Justin Moneyheffer | Senior | Ag Econ | Leesburg, IN |
| Jonathan Franks | Senior | Ag Econ | Wawaka, IN |
| Ross Trentadue | Junior | Ag Comm | Lake Mills, WI |
| Liz Woodruff | Junior | English | West Lafayette, IN |
| Megan Matlock | Junior | English/Theatre | New Castle, IN |
The team traveled every weekend, for field trips, workouts or contests, from the beginning of classes through the first weekend of November. They dedicated a lot of time and effort to visiting farms, giving oral reasons, and all day competitions. The team members demonstrated a strong discipline and work ethic in a rather short time frame of contests.
Accelerated Genetics hosted the first competition of the season in Viroqua, Wisconsin. With 24 Collegiate teams represented from California to Ohio, the Purdue team finished in eighth place overall. The team brought home the first place awards for two of the six breeds. They placed first in the Guernsey breed and received a blue ribbon in the Jersey breed. Liz Woodruff was third high individual in Jerseys.
The National Intercollegiate Dairy Judging Contest was held in conjunction with World Dairy Expo in Madison, Wisconsin the following week. Twenty-five teams from coast to coast were in attendance for the national contest. After an entire day of judging and reasons, the Purdue team received eleventh after placing twelve classes in six breeds and giving six sets of oral reasons. The team placed fourth in Brown Swiss with Liz placing seventh. Liz also placed fourth in Jerseys and concluded the day as the seventh high individual. The team received the ninth place ribbon for oral reasons.
Louisville, Kentucky was the final contest held at the North American International Livestock Exposition. The team was twelfth overall with a ninth place in reasons. Ross Trentadue was fourth in the Jersey breed and was named in the top twenty individuals along with Liz being ninth place individual.
The 2004 team would like to say thank you to everyone who supported their efforts this fall. It takes the faculty, department staff, and industry people throughout the Midwest to provide this experience and opportunity to these students.
The Department of Animal Sciences Ambassadors have been hard at work all semester on various projects geared towards student life, recruitment and alumni and industry relations. One major event for the Ambassador Team next semester will be Animal Science Preview Days.
Preview Days
Our Animal Sciences Ambassador Outreach and Recruiting committee has been very busy planning for the Preview Days on January 22 and February 26, 2005. We'll have a chance to host some of the record number of incoming freshman to help them become acclimated to the Department and to campus. Activities planned include lunch at a residence hall, tours of the Animal Sciences Research and Education Center (ASREC) and the Veterinary School, a panel discussion with current undergraduate students about student life - classes, housing, clubs and activities, and what it's like to be an Animal Sciences student at Purdue. We have an exciting agenda for our incoming students, and we are looking forward to meeting them!
Mentor Program
Over the summer, incoming freshman, based on their academic interests and hobbies, were paired with current students so they could interact via e-mail before classes started. During the first few weeks of school, mentors were encouraged to invite their mentees to the various functions within the College of Agriculture and the Welcome Back picnic hosted by the Department of Animal Sciences. The Department of Animal Sciences has created this mentor program to make the transition into life at Purdue a bit easier and to establish more of a "family" atmosphere. Although this program is in its first year, there have been several success stories of students helping other students get off on the right foot for their journey at Purdue.
The Animal Sciences Graduate Student Association (GSA) seeks to encourage student/faculty interactions, as well as promote alumni and industry relationships.
The GSA began the new semester with a fall picnic for faculty, staff, students, and their families. The picnic was a great success, with more than 100 guests. The GSA also celebrated the spirit of Halloween with a very festive departmental event. Finally, this fall marked the inaugural GSA-sponsored ANSC Chili Cook-Off.
Additionally, the GSA has been working with alumni and industry contacts to organize future seminars and tours.
The Current GSA Officers are:
| Position | Officer |
| --- | --- |
| President: | Lindsay Wilson |
| Vice-President: | Danielle Sholly |
| Secretary/Treasurer: | Ann Yager |
| Fundraising Chair: | Mike Toscano |
| Program Development Chair: | Jeff Arseneau |
| Academic Quadrathalon Committee: | John Mason & Sheila Jacobi |
| Social Chair: | Kari Saddoris |
| Computer Committee Rep: | Alan Fahey |
| Graduate Programs Rep: | Kristi Thompson |
| Seminar Rep: | Maria Walsh |
| Workshop for Youth Committee: | Sarah Pence & Jessica Williams |
| Graduate Student Senator: | Janet Beagle |