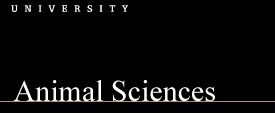 December 2006 ANSC Alumni Email Newsletter
INDEX of NEWS
Faculty and Student Holiday Donuts and Cider
During the last week of classes, it has become tradition that faculty and staff make homemade donuts and cider for graduating seniors and wish Animal Sciences students best wishes on final exams.
More than 500 donuts and many gallons of cider were served.
The Department of Animal Sciences is organizing the 7th Annual ANSC 181 Industry Tour.
The dates are January 26 and 27, 2007. The itinerary is already coming together and includes Dow Agrosciences, the Indianapolis Zoo and an Animal Science Alumni networking session at the Indiana Farm Bureau Building. This two day industry tour will include 50 Animal Sciences undergraduates and a few graduate students and faculty. If you or your company is interested in supporting the tour or getting involved, please contact Barry Delks at delks@purdue.edu or call 765-496-7234.
See this website for photos from last year's Tour: http://web.ics.purdue.edu/~rallrich/gallery/web181/.
We hope to see you on February 3 at the annual Agricultural Alumni Fish Fry. We plan to have a display, so stop by and visit with Dr. Grant and other Animal Sciences faculty and ambassadors. Two great speakers will be featured: Captain James Lovell, Commander of Apollo 13 and Gene Kranz, former NASA Director of Mission Operations.
Read the Connections article about the Fish Fry at: http://www.agriculture.purdue.edu/connections/fall2006/03_fish_fry_Apollo_13_01.shtml.
For details about the Fish Fry and a ticket order form, visit: http://www.agriculture.purdue.edu/agalumni/fishfry07.html.
Animal Science Career Fair - Wednesday, February 21, 2007
Last year more than 30 companies attended the first Animal Science Career Fair. This is a great place for companies to network with more than 550 undergraduates, 65 graduate students and Animal Sciences faculty.
Please plan on participating in the Career Fair on February 21. Contact Barry Delks at delks@purdue.edu or call 765-496-7234.
Are you looking for a new career or seeking summer or fulltime employees? Check out these helpful websites:
http://www.agriculture.purdue.edu/anscjobs/
https://www.cco.purdue.edu/alumni/
If I can be of any assistance to you with your job search or with your company as you seek new employees, I am very happy to assist you.
Contact:
Barry Delks
Coordinator of Career Services & Alumni Relations
Lilly 2109
915 W. State Street
West Lafayette, IN 47907
765-496-7234
765-494-9346 (fax)
delks@purdue.edu
2006 Animal Sciences Homecoming
More than 200 Animal Sciences Alumni came together on September 23 for a great time of fun, food and fellowship. The new Distinguished Animal Sciences Alumni were recognized as well as our guests celebrating 25 and 50 year Reunions.
To remember the fun, we hope you will enjoy the photos from the 2006 Homecoming at this site: http://www.ansc.purdue.edu/events/reunion/2006/.
Hail Purdue!
2007 Book-Harmon Leadership Forum

Carol Mutter will be presenting "Keys to Effective Leadership" at the 2007 Book-Harmon Leadership Forum. She is a consultant to the U.S. Military and other areas of government. Carol served for more than 31 years in the U.S. Marine Corps, attaining the rank of Lieutenant General. She is the first woman to be qualified as Command Center/Space Director, Marine Major General, and Marine Three-Star General. She has a lifetime of leadership experiences to share. Learn about the critical role of leadership. Expand your vision of world-wide opportunities. Gain the skills necessary for effective leadership. Learn why you should seek opportunities to serve.
The Book-Harmon Leadership Forum will be held February 7, 2007, at 1:30 pm in the Deans Auditorium, Pfendler Hall.