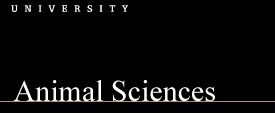 December 2007 ANSC Alumni Email Newsletter
INDEX of NEWS
Greetings from the Department of Animal Sciences
Animal Sciences had many exciting activities this fall, and we appreciate many of you being involved.
We hope you enjoy reading about many of these events in this Alumni Email Update. In addtion to the activities, Animal Science continues to grow with 550 undergraduates and 35 students graduating in December.
Be looking for the print newsletter coming to your mail box this spring. We wish you and your family a Merry Christmas.
Animal Science Alum Provides Graduate Students with a Financial Planning Seminar

Bill Palmore, a 1959 Purdue Animal Science alum, spoke to a full conference room on the basics of financial planning during a seminar on Friday, October 19 held at Purdue University.
Bill, along with his wife, Karen, formed the Palmore PRIME consulting group, which provides clients advice for retirement plan management and other consulting services.
Palmore spoke to the group of primarily graduate students about saving and investing money and handling debt properly. One graduate student commented, "This was very helpful to hear at this stage of life."
A native Hoosier, Palmore grew up on a farm in Clinton County. While at Purdue, he was a member of the livestock judging team and is still active in many campus organizations, including the President's Council, R.B. Stewart Society, 58-59 Class Gift Steering Committee, and the W.M. LATTA Society. He has also received the Presidents Council Distinguished Pinnacle Award.
Bill and Karen have four daughters and eight grandchildren.

The ANSC 181 class will be taking the 9th annual Animal Sciences Industry tour January 25 and 26, 2008. They will tour several farms and companies in Northern Indiana including Maple Leaf Farms and Cargill, who are helping sponsor the tour. In addition, they will visit IPC in Delphi, Louis Dreyfus in Claypool, and many other animal science related sites.
The ANSC 181 tour has had a tremendous impact on Animal Science students. When 181 students were asked about the impact of attending the tour, participants responded:
78% helped with career plans
75% helped make decisions about major
64% helped make industry contacts
98% helped make friends
The 3rd Annual Animal Sciences Career Fair will be held on Wednesday, February 20, 2008 from 10:30-3:30 in Lilly Hall. This is an important event to recruit Purdue Animal Sciences students, promote and advertise your organization, network and develop career connections, and have the option to participate in a Science or Equine/Companion Animal Career Panel.
Employers are invited to participate in one of the two Employer Career Information panels. There will be a Science/Research Panel at 12:30 and an Equine/Companion Animal Panel at 3:30.
There will also be a résumé writing workshop on Monday, February 18 and a networking workshop on Tuesday, February 19, 2008. Both workshops are open to all students and will be held at 1:30 each day in Lilly 3-113.
Please contact Barry Delks, Coordinator of Career Services & Alumni Relations, at 765-496-7234 or delks@purdue.edu to confirm your free booth.
Dr. Pearse Lyons, President of ALLtech will present two seminars focusing on entrepreneurship, risk taking and the importance of enthusiasm at 2008 Book-Harmon Leadership Forum, on February 5th.
Dr. Lyons will speak in the Deans Auditorium to more than 200 students, faculty and administrators on February 5:
At 10:30 am on "The importance of Leadership and Communication Skills in the Animal Science Industry".
At 12:00, Dr. Lyons will facilitate interaction with faculty during lunch.
And, finally, at 1:30 pm to graduate students on "Leadership - Your Science May Get You in the Door, But Your Leadership and People Skills Will Help You Succeed".
ALLtech has created the Young Animal Scientist Award. As stated on ALLtech's website: "It was developed to generate and promote talent among today's young scholars from around the world. The program enables undergraduate students from various universities to join Alltech in the search for natural solutions for the future of the animal feed industry while also gaining valuable experience with a global leader in the industry. Interested in participating in the 2008 program? http://www.alltech.com/yas"
Homecoming and Distinguished Animal Sciences Alumni

More than 200 Animal Sciences Alumni came together on October 27th for a great time of fun, food and fellowship. Several of our guests were celebrating 25th and 50th year reunions. The new Distinguished Animal Sciences Alumni were recognized on Friday, October 26th.
Former genetics graduate students and post-docs also had a reunion at Homecoming. After joining in the morning's activities, they gathered with current and former faculty for dinner.
To remember the fun, we hope you will enjoy the photos from the 2007 Homecoming at this site: http://www.ansc.purdue.edu/events/reunion/2007/.
Hail Purdue!