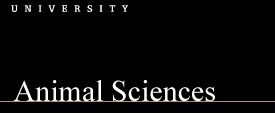 December 2008 ANSC Alumni Email Newsletter
INDEX of NEWS
Greetings from Purdue Animal Sciences
Greetings from the Department of Animal Sciences! This past year has been another exciting year for the department.
Purdue Animal Sciences has worked hard to assemble an outstanding faculty and staff who are helping to solve issues for the food, health, and agricultural industries; however, it is clear that updated campus facilities for research and education are essential for us to be more effective in meeting our stakeholder needs and in preparing students for careers. We have appreciated the tremendous support, input, and feedback from alumni and industry. We hope to engage you along with our industry partners as we move forward on a new building initiative (see article below).
We hope you enjoy the highlights in this brief email Newsletter. Be looking for more details in our annual full-length print version in the Spring. More information about the department can be found on our website at www.ansc.purdue.edu, and please join us at one of our alumni events, so we can tell you more about Purdue Animal Sciences. Thank you for your support.
Go Boilers!
Alan L. Grant
Life Sciences Legislative Request Puts Animal Sciences at the Top
A new Life Sciences facility is Purdue University's top capital project proposal for next year's state budget request. The facility would improve animal sciences education and research and create greater opportunities for animal agriculture in Indiana.
Bringing animal sciences together with basic life sciences programs fosters an interdisciplinary environment for research and funding to help address animal industry issues and develop animal models for the study of human and animal health.
The facility is expected to cost $60 million dollars. As proposed, Purdue would raise $20 million, and $40 million will be requested from the legislature.
Indiana producers and agribusinesses have long relied on animal sciences faculty, staff and students to help them be more efficient and profitable, keep pace with new regulations and technologies, and remain globally competitive. And, as a result, animal agriculture has grown in importance as an economic driver for Indiana.
See the following story for more on our animal sciences research.
Native Birds Might Restock Poultry Industry's Genetic Stock
As concerns such as avian flu, animal welfare and consumer preferences impact the poultry industry, the reduced genetic diversity of commercial bird breeds increases their vulnerability and the industry's ability to adapt, according to a genetics expert.
Purdue University animal sciences professor Bill Muir was part of an international research team that analyzed the genetic lines of commercial chickens used to produce meat and eggs around the world. Researchers found that commercial birds are missing more than half of the genetic diversity native to the species, possibly leaving them vulnerable to new diseases and raising questions about their long-term sustainability.
"Just what is missing is hard to determine," Muir said. "But recent concerns over avian flu point to the need to ensure that even rare traits, such as those associated with disease resistance, are not totally missing in commercial flocks."
Purdue's Animal Welfare Judging Team Wins!
Congratulations to Purdue's Animal Welfare Judging Team, which placed first at the Intercollegiate Judging Contest. The contest was held November 1-2 at Michigan State University. This year was the largest competition ever, with six universities (Missouri, Iowa, Michigan State, Guelph, Wisconsin, and Purdue) sending teams.
Created as an educational exercise to enhance students' understanding of the welfare issues affecting animals used for human purposes, including livestock production, research and companionship, the event promotes critical thinking, teaches ethical reasoning skills, encourages objective assessments based on science, and improves persuasive public speaking and presentation skills.
Contestants were challenged to assess the welfare of animals in comparative scenarios featuring Przewalski's horses (Takhi), domestic cats and dairy cattle. The on-farm team assessment considered the welfare of layer chickens, turkeys and Coturnix quail.
In the undergraduate team division, Purdue came in first, followed by Michigan State University in second, the University of Wisconsin-Madison in third, and two teams representing the University of Guelph (Ontario) in fourth and fifth. In the undergraduate division, Purdue teammates Laurie Onyskow and Ashley Kelly placed second and fourth.
Purdue team members (left to right in the photo) were Laura Onyskow, Faith Shields, Melissa Elischer, Christine Erlandson, and Ashley Kelly. Coaches were Monica Pittman, Ph.D. student in Animal Sciences, and Stacey Enneking, M.S. student in Animal Sciences. Dr. Ed Pajor was the faculty advisor.
2008 Distinguished Animal Sciences Alumni Awards Presented

Left to right: Pete Hanebutt, Malcolm DeKryger, Eddie Creighton, Tildon Wayne Perry, Jesse Shively, and Alan Mathew
The Purdue University Department of Animal Sciences presented six individuals with the 2008 Distinguished Animal Sciences Alumni Awards Nov. 21 on Purdue's campus.
Each of the recipients has demonstrated excellence in industry, academia or governmental service.
"The Distinguished Alumni Program provides an opportunity for the Animal Sciences Department to honor outstanding alumni and provides our students with an opportunity to learn how alumni have led successful careers," said Alan Grant, head of the Animal Sciences Department. "It was a great day for the department as we honored these alumni for their outstanding achievements."
The three recipients of the Lifetime Career Award are:
Eddie Creighton, of Warsaw, Ind. Creighton earned his bachelor's degree from Purdue in 1954. Upon graduation, he went to work on his family's farm, Creighton Brothers. He worked his way up to general manager in 1982 and by 1985, Creighton Brothers became the leading marketer of fresh shell eggs in the continental United States. Before his retirement in 1998, Creighton was instrumental in building the Crystal Lakes liquid egg processing plant, which produces 50 million dozens shell eggs and 45 million pounds of egg product.
Tilden Wayne Perry, of Van Buren, Ark. Perry received his master's degree in 1948 and his doctorate degree in 1950-both in animal sciences at Purdue. He spent 43 years serving the Purdue University Animal Science Department in research and teaching. Perry's accomplishments include 150 published abstracts, 161 scientific papers, 323 departmental publications and 4 university text books. Perry served the aniaml industry in numerous assocations and was a charter member and historian of the American Registry of Animal Science.
Jesse Shively, of Franklin, Ind. Shively earned his bachelor's in 1957 and his master's in 1963 in animal sciences from Purdue. Upon completion of his doctorate from Iowa State in 1967, Shively began a 30-year research career with Pfizer.  He began his tenure as a research nutritionist, became a project leader in 1974 and in 1988 was promoted to senior clinical research investigator. His research successes include the development of a feed additive and antibacterial product for swine and three U.S. patents.
The two winners of the Mid Career Award are:
Malcolm DeKryger, of Demotte, Ind. Upon earning his master's degree in 1983, DeKryger spent one year as a Purdue Extension swine specialist followed by seven years in the feed and pharmaceutical industries. In 1991 DeKryger joined Belstra Milling Company, where he currently serves as Vice President and is responsible for business development, personnel recruitment, nutritional management and pig production. Under his leadership, Belstra has added nearly 11,500 sows and 40,000 dairy cows, and the feed mill has grown from 35,000 mixed tons to nearly 120,000.
Alan Mathew, of Knoxville, Tenn. Mathew received his master's degree in 1978 and doctorate in 1991 at which time he became an assistant professor with the department of animal science at the University of Tennessee. He assumed the role of Department Head in 2003 where he provides direction to the teaching, research, and extension missions for the department. Mathew has published 66 research papers, 51 scientific abstracts, and provided more than 40 invited national and international presentations. He currently serves on numerous boards and advisory groups.
The recipient of the Early Career award is:
Pete Hanebutt, of Indianapolis, Ind. Hanebutt completed his bachelor's degree in 1993 and took a position as an area field representative for Indiana Farm Bureau in 1994 where he facilitated Agriculture in the Classroom programs and was heavily involved with local government. For the past 11 years, Hanebutt has been the political education specialist for Farm Bureau's public policy team.  His current duties include congressional and statehouse relations, grassroots lobbying activities, and facilitating Indiana Farm Bureau activities.
Purdue Ag Fish Fry to Feature Veteran Political Journalist
The Purdue University Agricultural Alumni Fish Fry on Feb. 7 will give attendees an inside look at the national political scene from the perspective of a broadcast news veteran.
Andrea Mitchell, the anchor of MSNBC's "The Andrea Mitchell Hour" and chief foreign affairs correspondent for NBC News, will be the guest speaker during the luncheon that begins at 11:30 a.m. in the Toyota Blue Ribbon Pavilion at the Indiana State Fairgrounds in Indianapolis.
The Fish Fry is the annual meeting of the Purdue Agricultural Alumni Association. Tickets are available by contacting the Purdue Ag Alumni office at agalumni@purdue.edu. The Ag Forecast, a program highlighting important topics in agriculture, will precede the Fish Fry starting at 9:30 a.m. in the Old National Bank Grand Hall, also located on the fairgrounds.
2009 Book-Harmon Leadership Forum
Wednesday, February 18, 2009
Deans Auditorium, Pfendler Hall
Dr. Patricia (Patsy) L. Houghton
Owner and General Manager
Heartland Cattle Company, McCook, NE
A native of Kansas, Dr. Houghton has been involved with the cattle industry for most of her life. She graduated from Kansas State University and then went on to get a Masters in Reproductive Physiology there as well. She received her Ph.D. in Ruminant Nutrition from Purdue University in 1986. She has been a leader in Youth Education, an instructor at Purdue, and a Beef Cattle Extension Specialist at K-State. Dr. Houghton received the American Society of Animal Siences "Outstanding Agribusiness Award" and was named the Certified Angus Beef "Feedlot Partner of the Year".
In 1990, Dr. Houghton formed Heartland Cattle Company, a professional heifer development and research center. As President and General Manager, she pioneered custom and contractural heifer development and AI breeding programs. Additionally her company has a very active research and development and a calf weaning program. In 2006, she became the sole owner of Heartland Cattle Company.
Schedule of events on February 18:
12:00 - 1:30 pm ..... Graduate Student/Faculty Seminar - "Developing Leadership Skills in Graduate School for Industry"
3:00 pm ................. Reception - Pfendler Gallery
3:30 pm ................. Open Seminar - "What Choices Can You Make to Grow as a Leader in Your Career?"
4:30 - 5:00 pm ....... Questions and Answers
The 2009 Book-Harmon Leadership Forum is sponsored by The Department of Animal Sciences, The Office of Academic Programs, The College of Agriculture, Maple Leaf Farms, and Monsanto Company.
January 30-31 - Animal Science Industry Tour - contact Barry Delks at delks@purdue.edu