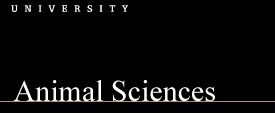 July 2002 ANSC Alumni Email Newsletter
THE DEPARTMENT OF ANIMAL SCIENCES
Purdue University Alumni and Friends Email Update
http://www.ansc.purdue.edu/
Greetings from the Department of Animal Sciences! We hope this newsletter finds you doing well.
This is the third Department of Animal Sciences email update. The purpose of this email is to provide a brief update of departmental activities.
If you would like to provide an email address for others to be added or you would like to be removed from the list, please reply to delks@purdue.edu.
RECENT GRADUATES, PLEASE EMAIL delks@purdue.edu YOUR NEW EMAIL ADDRESS IF YOU WANT TO RECEIVE FUTURE ISSUES OF THIS NEWSLETTER (3-4 times per year).
If you do not have time to read the entire newsletter, page down to the numbered article that you are interested in reading.
INDEX of NEWS
The Department of Animal Sciences is pleased to announce that Dr. Alan Grant has been selected as the new Department Head. Dr. Grant has served as interim Department Head since June 2001 and has provided excellent leadership and direction for the Department. Before becoming Department Head, Dr. Grant focused his research on Growth and Development and was selected as a University Scholar in August 2001. Dr. Grant received his B.S. from Cornell University and his M.S. and Ph.D. from Michigan State University. Alan has also served as a Visiting Scientist at the Medical Research Council, Imperial College School of Medicine, London, UK. Dr. Grant's roots go back to growing up on a dairy farm in New York.
Please congratulate Alan and his family - wife, Brenda, and son, Andy, in their new role. If you have not met Dr. Grant, be sure to attend the DEPARTMENT OF ANIMAL SCIENCES REUNION AUGUST 31.
Plan to attend the Department of Animal Sciences Reunion Saturday, August 31. This will be a great opportunity to meet Dr. Alan Grant, our new Department Head, visit with retired and new faculty, Animal Sciences Ambassadors alum, and join our seniors for a special picnic under the tent! There will be plenty of food including pork, chicken breast and duck prepared by Parrett's Catering of Flora.
Recognition will be given to alumni celebrating their 25th and 50th anniversaries (1952 and 1977), members of the 1952 Livestock Judging team, as well as the new inductees to the Indiana Livestock Breeders Association Hall of Fame. Also, all former Animal Sciences Ambassadors are invited back to celebrate 10 years of the ambassador program.
Make plans to visit with your favorite professor and friends, join in singing a special rendition of Hail Purdue and celebrate the first Purdue Football victory of the 2002 season!
For more information contact
Agricultural Alumni Association
Donya Lester, Executive Secretary
Purdue Agricultural Alumni Association
1140 AGAD, Room 1
West Lafayette, IN 47907-1140
765-494-8593
lesterd@purdue.edu
or
Barry Delks
Coordinator of Career and Alumni Services
Department of Animal Sciences
765-496-7234
delks@purdue.edu
DEADLINE FOR FOOTBALL TICKETS IS JULY 29 AND LUNCH RESERVATION AUGUST 9.
3. NEW FACULTY POSITION SEARCHES
The search is ongoing for the following faculty positions: Aquaculture Extension Specialist, Animal Growth and Developmental Biology and Molecular Genetics.
This year the annual Indiana Breeder Livestock Hall of Fame Awards ceremony will be held at the Indiana State Fair. New honorees will receive their award TENTATIVELY on August 8, prior to the Championship drive in the Livestock Coliseum. New inductees to the Hall of Fame will also be recognized at the Animal Sciences Reunion on August 31.
Be sure to look for the Animal Sciences Exhibit at Purdue Day on August 14 at the State Fair. For more information see: http://www.ces.purdue.edu/statefair/
The Department of Animal Sciences celebrated another successful year by hosting an ice cream social for all the students. See this site for photos! http://www.ansc.purdue.edu/events/picnic/icecream2002/icecream2002.htm
Dr. Mark Diekman, Undergraduate Program Chair, is delighted to report the current number of undergraduate students is nearly 400. He expects 70 freshmen and an additional 15 transfers this fall.
The most popular option is the science option with 270 students enrolled with the majority specializing in pre-veterinary medicine. Approximately 60 students are enrolled in the Production/Management option and 70 students are enrolled in the Agribusiness option. Enrollment has also increased slightly in the Biotechnology specialization.
Nearly 90% of the Animal Sciences undergraduate students are from Indiana. The Department offers more than 50 courses with an annual enrollment of over 2,300 students. In addition there are 60 graduate students in the Department.
Graduation photos: http://www.ansc.purdue.edu/events/graduation/2002/
Seventy-one students graduated form the Department of Animal Sciences in 2002. As of June, thirteen students have been admitted to Veterinary Medicine, seven have been accepted to Graduate School, and three have been admitted to the Vet Tech program. Five seniors will return to their home farm, nine will enter positions in production, four in sales, and four in the life science areas. Students have accepted positions with Murphy, United Feeds, Maple Leaf Farms, BAS, Pet Smart and many other exciting companies.
If you are looking for new employees or would like to post a job, contact Barry Delks or see this website: http://www.agriculture.purdue.edu/anscjobs/
Would you like to link your company to our ANSC Career website? Send Barry Delks your company information with permission and we will add it for our students and alumni to use. See the current employer list at: http://www.agriculture.purdue.edu/anscjobs/BusOrg.html
Dr. Terry Stewart, Dr. John Forrest, and Dr. Mark Russell led a group of 19 students to China this summer. Twelve undergraduates from Animal Sciences joined them on this trip to China. Other students are studying abroad in Japan, Denmark, and Australia. See this site for photos from China: http://icdweb.cc.purdue.edu/~tstewart/ansc295K
Jeffery M. Luckman was selected the first recipient of the newly established Animal Sciences Distinguished Alumni Award. Luckman, who was born in New York and grew up in the meat business, received his Bachelor of Science degree in Animal Sciences in 1976. When Smithfield Foods, Inc. of Smithfield, Virginia acquired John Morrell & Company in 1993, Jeff's responsibilities broadened. Within a few short years Smithfield Foods has become what is now the world's largest food processor and hog producer. As Vice President for Procurement, Jeff is responsible for three domestic subsidiaries: Smithfield Packing, Gwaltney, and John Morrell; and three foreign subsidiaries: Schneider's in Winnipeg and Saskatchewan, Canada; Animex in Poland; and Norson in Mexico.
With all of these responsibilities Jeff still finds time to be with his wife, Lori, and two daughters, Suzanne and Courtney, who he hopes one day will choose Purdue University.
Jeffery M. Luckman is an avid supporter of Purdue University and in 1999 established the Luckman Animal Science Scholarship fund for incoming freshmen and sophomores who demonstrate leadership potential in the animal industry. Jeff's exemplary career in the animal science industry, his passion to help students succeed in the animal industry and his service to the Department of Animal Sciences and to the industry we serve, make him a truly distinguished Animal Sciences Alum.
http://www.ansc.purdue.edu/alumni/dietzen2002/index.htm
Dr. Chuck Dietzen, B.S. Animal Sciences, 1983, is one of this year's Distinguished Agriculture Alumni. Chuck received his M.D. from Indiana University. Growing up in Kokomo, Indiana, his family cared for more than 150 foster children. Chuck learned early about compassion and living with zest. It led him to become a physician. It's taken him to the top of Mount Shasta, on an Arctic dog sled trip, and to professional wrestling rings as Dr. Doom. He's since rolled those into a single passion: a life of adventure and caring. This June it will take Dr. Chuck, as his pediatric patients call him, to a houseboat on the Amazon, where he'll provide medical care during his travels. July will find him in Ecuador. And these are after his March medical missions to Honduras and Haiti.
His travels to six or seven countries a year as part of the nonprofit Timmy Foundation (http://www.timmyfoundation.org) which he founded in 1994 and named for a brother who died as an infant. The foundation provides for children's needs around the world by serving as a clearinghouse for volunteers, medicine, food, educational resources, clothing, and other supplies. "We organize trips. We help volunteers find their mission," Dietzen says. "I tell people we weren't all born to be doctors, nurses, and therapists, but we were all born to be healers."
Stateside, he is equally committed to youngsters, in his medical work and his service as medical director at CHAMP Camp for medically fragile children. There he challenges the "fragile" label by engaging children in vigorous outdoor activities. "I take kids with disabilities and give them arenas to display their abilities."
His inspiration, he says, are the children themselves, whom Dietzen regards as heroes. "They are so incredibly wise. Medical school gave me knowledge. My patients make me wise."
With regard to his experience at Purdue, Dietzen says, "I found mentors for life at Purdue. The Ag faculty were good men and women - great role models - and they happened to also be good instructors. From them, I found more than knowledge, I found out how I wanted to live my life." Chuck Dietzen is very deserving to be named a Distinguished Ag Alumni.
PURDUE UNIVERSITY
http://www.purdue.edu/
ANIMAL SCIENCES
http://www.ansc.purdue.edu/
SPORTS
http://www.purdue.edu/Sports/
http://www.boilerstation.com/
PURDUE CALENDAR
http://www.purdue.edu/calendar/
JOBS
http://www.adpc.purdue.edu/Personnel/job-home.htm
http://www.agriculture.purdue.edu/anscjobs/JobSearch.htm
http://www.purdueepronet.com/corporate/cobranded_home/cb_home.asp
ROSS-ADE RENOVATIONS
http://purduesports.fansonly.com/sports/m-footbl/spec-rel/052202aaa.html
STAY IN TOUCH
If you have news that you want to share with your friends in the Department or on this email list, send your news to delks@purdue.edu
Best wishes and GO Boilers!
Plan to attend the Department of Animal Sciences Reunion Saturday, August 31. Email us today for more information!