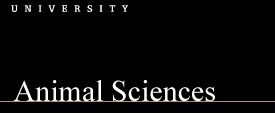 November 2005 ANSC Alumni Email Newsletter
INDEX of NEWS
Greetings from Animal Sciences!
We are coming to the close of a successful fall semester. There are more than 525 undergraduate students and 65 graduate students studying Animal Sciences!
It is an exciting time as Dr. Scott Lake joins the Animal Sciences faculty this month as an assistant professor of beef cattle nutrition. Please help me welcome him to our Department.
Nearly 250 alumni, friends and faculty gathered together at our Animal Sciences Homecoming Reunion on October 15. Everyone celebrated the success of six Animal Science alumni for their distinguished service to the animal science industry. See the article below for details of the Animal Science Distinguished Alumni recipients.
We hope to see you at the Fish Fry on February 11, be sure to stop by the Animal Science display. The Graduate Student Association plans to have Animal Science hats and shirts for sale.
Look for more information in our printed newsletter this spring. Thank you for your continued support of the Purdue University Department of Animal Sciences.
Go Purdue!
Alan L. Grant
Animal Sciences Distinguished Alumni Awards
The Purdue University Department of Animal Sciences presented the 2005 Distinguished Animal Sciences Alumni Awards to six individuals on Oct. 14. Recipients were honored in three categories.
"These awards were created to recognize the achievements of graduates from the animal sciences program and to recognize alumni for contributions to the industry, as well as to provide current students an opportunity to view the pathways to success taken by alumni," says Alan Grant, head of the department.
"The six recipients recognized this year have demonstrated excellence in industry, academia, governmental service or other endeavors related to animal sciences. We are very pleased to honor them."
The three recipients of the Lifetime Career Award are:
Hobart W. Jones received his bachelor's degree in 1943 in animal science, later earning a master's from Ohio State University and a doctorate from the University of Kentucky. He was a professor at Purdue for 38 years, instructing about 5,000 students before he retired in 1988. He was a nationally recognized authority on swine management and housing. This past May, National Hog Farmer magazine honored him as one of 50 people who have had the greatest impact on the pork industry. Jones received 10 teaching and counseling awards, and in 1980 was named the Outstanding Teacher in the College of Agriculture. Also, the American Society of Animal Sciences honored him with the Animal Management Award in 1974, and Purdue honored him with the Hovde Award in 1973 for service to the rural people of Indiana. Jones currently resides in West Lafayette, Ind.
Robert C. Peterson received his master of science in 1954 and that same year was hired by Purdue as the beef research leader at the Southern Indiana Forage Farm where he served for 11 years. In 1965, Peterson accepted the position of assistant superintendent at the Lynnwood Farm in Hamilton County, managing the Bull Test Station. In addition to creating an excellent Simmental cow herd and conducting a variety of beef cattle projects, Peterson assisted with a swine performance program called the Pork Production Derby and a ram testing program. Peterson was superintendent of the station from 1967 until he retired in 1989. He has held offices in various beef producer organizations, is a member of the Indiana Livestock Breeders Hall of Fame, and has received numerous awards, including Indiana Outstanding Cattleman; Lifetime Achievement Award, Indiana Beef Cattlemen's Association; Meritorious Service Award, Indiana Pork Producers; and the Oren Wright Outstanding Service to the Indiana Sheep Association Award. He currently resides in Sheridan, Ind.
Maurice L. (Mauri) Williamson earned his bachelor of science in 1950 and was the executive secretary of the Purdue Agricultural Alumni Association from 1953 to 1990. During his tenure, the association grew to a position of national prominence and became the model for all other alumni groups. With his leadership, the National Agricultural Alumni Development Association was founded to provide education and support for professionals, volunteers and student leaders. Williamson was selected as an Honorary Lieutenant Governor in 1983, and was chosen an Honorary Master Farmer in 1985 by Prairie Farmer magazine. He received the Certificate of Distinction from the Ag Alumni Association in 1990 and that same year was chosen Honorary Commissioner of Agriculture and named an Honorary Lieutenant Colonel by the Indiana State Police. In recognition of his long and successful service to agriculture, Purdue established the Mauri Williamson Scholarship for Academic Excellence. Williamson continues to serve as the manager of the Pioneer and Home Show at the Indiana State Fair and is leading the drive to enhance the Center for Agricultural Science and Heritage. Williamson currently resides in West Lafayette, Ind.
Mid-Career Award recipients are:
Terrence M. (Terry) Fleck earned his bachelor of science in 1975 and has worked as executive vice president of the Indiana Pork Producers Association and the Indiana Pork Advocacy Coalition for more than 15 years. He has increased corporate and grant support for the organization and has broadened the grassroots organization to include associated industries and a successful public affairs advocacy platform. He is a member of the American and Indiana Societies of Association Executives and is a board member for the Indiana Livestock Alliance and the International Association of Grace Ministries. Fleck was the director of public relations for the Indianapolis Livestock Market for two years after his graduation. Then he was a field and regional sales manager for Vigortone Ag Products. In 1983, Fleck became technical coordinator of the U.S. Feed Grains Council in Washington, D.C., and later served as regional director for the U.S. Feed Grains Council in Vienna, Austria. Fleck resides in Carmel, Ind.
Angela L. Siemens earned her bachelor of science in 1983 and went on to receive a master's and doctorate from the University of Missouri. She previously was a food technologist at Beatrice Foods and a process technologist with Oscar Mayer Foods. Siemens is currently vice president of quality assurance for Smithfield Foods, and is responsible for management of all food safety programs in the $2.7 billion pork and meat processing company. Her honors include the Paul D. May Award for Service from the World Beef Expo and the Friends of the Cattlemen Award from the Wisconsin Cattlemen's Association in 2000. In 1999, she was recognized as the Meat Processing Magazine Rising Star, and in 1996 and 1998 she received the Above and Beyond the Call of Duty Award from Kraft Foods. She is a member of the American Meat Science Association, American Society of Animal Science, and the Institute of Food Technology. Siemens currently resides in Smithfield, Va.
Early Career Award recipient is:
Barbara A. Lintzenich, who earned her bachelor of science in 1991 and later her master's degree from Kansas State. She is the animal nutrition manager at the Cincinnati Zoo and Botanical Gardens, and her responsibilities include developing, implementing, and supervising all aspects of the zoo animal nutrition program. Lintzenich manages the commissary, food safety, quality control, diet formulations, and assessment of animal health. She is also responsible for educating zoo staff, volunteers, and visitors, and works closely with animal management, animal keepers, researchers, and veterinarian staff. Lintzenich is a member of the Comparative Nutrition Society and the American Zoo and Aquarium Association (AZA), and serves as chair of the Nutrition Advisory group for AZA, as well as on the fundraising and membership subcommittees. She is also a member of the American Society of Animal Science, Alpha Zeta and Ceres Honorary Fraternity. Lintzenich resides in Cincinnati, Ohio.
Elanco Provides Insight to Animal Sciences Ambassadors
Glenda Wallpe, Manager of Human Resources for Elanco, provided in-depth testing, training and feedback to the 2005-06 Animal Science Ambassadors. During the two day training designed to enhance the skills and team unity among Ambassadors, Wallpe and Stacy Norin, District Sales Manager, Elanco, provided a detailed workshop utilizing the INSIGHTS personality inventory. The training and the INSIGHTS inventory helped ambassadors learn more about their strengths, weaknesses, effective communication, management styles, and life management skills.
"The INSIGHTS inventory and training were very helpful and it has enhanced the communication between ambassadors," said Jeremy Armstrong, junior in animal production for Patriot, Ind.
The second annual Book-Harmon Leadership Forum will take place on Feburary 15, 2006, from 2-3 pm in the Pfendler Hall Dean's Auditorium. John Madia will serve as the keynote speaker at the forum.
Madia is Vice President for Human Resources, Productivity and Site Operations at Dow AgroSciences. His responsibilities include being the global focal point for a number of initiatives, including Six Sigma, intended to improve Dow AgroSciences' overall global competitiveness and productivity. Madia has been recognized by Dow Chemical with the Genesis Award for development of people as well as a recipient of the Future's Award for product innovation.
Madia currently serves on the Sponsor's Board for the FFA Organization, and has recently held positions on the Purdue University School of Agriculture Dean's Advisory Board, the Purdue University Athletic Advisory Board, and the Agricultural Retailer's Association Planning Board.
During the forum, Madia will challenge students to grow in their leadership skills. He will:
Focus on the importance of leadership qualities to succeed in industry, family and community
Help students learn about industry and world wide issues as they relate to leadership
Increase student awareness of leadership skills industry is looking for in employees
Encourage students to make a difference in the Department of Animal Sciences, College of Agriculture, Purdue University, industry and community
Maple Leaf Farms has joined the Department of Animal Sciences, Dr. Bud Harmon and Bob Book as a Leadership Partner in sponsoring this event.