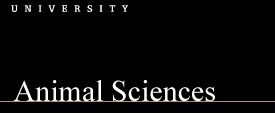 September 2004 ANSC Alumni Email Newsletter
INDEX of NEWS
Distinguished Animal Sciences Alumni Award
- Lifetime Career Award Recipients
- Mid-Career Award Recipients
- Early Career Award Recipients
Homecoming Reunion
Purdue Honors Distinguished Animal Sciences Alumnus
Purdue News Release, September 13, 2004
WEST LAFAYETTE, Ind. - The Purdue University Department of Animal Sciences will honor seven individuals with the 2004 Distinguished Animal Sciences Alumni Award. They will be honored in three categories for their work and involvement in the animal science industry.
This award was created to recognize the achievements of graduates from the animal sciences program and recognize alumni for significant contributions to the animal science industry, as well as to provide current students an opportunity to view the pathways to success taken by alumni, said Alan Grant, head of the Department of Animal Sciences.
"The seven recipients recognized this year have demonstrated excellence in industry, academia, governmental service or other endeavors related to animal sciences as exemplified by their leadership and accomplishments," Grant said. "We are very pleased to honor these recipients."
There will be an awards ceremony at 2 p.m. Oct. 15 in the Lilly Hall of Life Sciences, Room 3-113. The award recipients will also be recognized at the Animal Sciences' Alumni and Friends Homecoming Reunion on Oct. 16 in the animal sciences tent on the Memorial Mall.
Three individuals will be awarded the Lifetime Career Award: Frank M. Clark, Thomas M. Means and George W. Thrasher.
Frank M. Clark
Thomas M. Means
George W. Thrasher
Frank M. Clark received his bachelor's degree in animal sciences in 1954. Currently Clark owns and operates a farm operation including corn, beans, wheat and a cow-calf enterprise. Clark is a past president of the Indiana Beef Cattle Association, past National Cattlemens' Beef Association (NCBA) dues director and an active NCBA committee member. In 1992, the Indiana Beef Cattle Association (IBCA) named Frank the Outstanding Cattleman and he was awarded IBCA's highest recognition, the Robert Peterson-Lynnwood Farm Lifetime Achievement Award, in 2002. In 2001, Frank and his wife, Wini, endowed a beef scholarship at Purdue University for an outstanding student demonstrating academic, leadership and beef industry excellence. In addition to his professional duties, he has served on numerous boards including currently serving on the St. Vincent Hospital Board and on the Warren County Council.
Thomas M. Means graduated from Purdue University with a bachelor's degree in animal husbandry in 1949, a master's degree in 1952 and his doctorate in 1956. While working on his advanced degrees he was in charge of the department's sheep unit and exhibited the grand champion wether at the International Livestock Exposition in 1954 and 1955. He joined Eli Lilly and Company as a biochemist in 1956 and was involved with cattle, sheep and swine research. Means was instrumental in the commercial development of the first anticoccidial fermentation compound for poultry, the first continuous in-feed anthelmintic for swine and poultry and the first approved feed additive to modify fermentation in ruminants. Means played a very pivotal role in developing the animal science division including selection of personnel, facilities construction and research and development policy guidelines for Eli Lilly's Greenfield, Ind. Research Laboratories.
George W. Thrasher received a bachelor's degree in animal science in 1952, a master's degree in 1954 and a doctorate in 1958 from Purdue. Thrasher was an assistant professor in animal sciences at Purdue in 1958 and 1959, during which time he served as state swine Extension specialist and taught courses at Vincennes University. In 1959, George joined Commercial Solvents Corporation as a research scientist in the animal health and nutrition area. In 1964, he joined Pfizer Inc. where he served as Research Scientist until 1986, and then as senior scientific advisor until 1996. At Pfizer, Thrasher managed discovery and development projects that were designed to attain regulatory clearance for new animal health products in the U.S. and other countries. Thrasher has been recognized for many contributions to his profession and was named a Fellow of the American Society of Animal Science in 1995. George and his wife, Jean, endowed a scholarship for animal sciences students who demonstrate excellence in academic and leadership abilities.
Mid-Career award recipients are Roy D. Riggs and Gary M. Weber.
Roy D. Riggs
Gary M. Weber
Roy D. Riggs received his Purdue bachelor's degree in animal science 1979 and completed the Harvard Agribusiness seminar in 2001. He now serves as Director for the U.S. Cattle Business Unit for Elanco Animal Health, Greenfield, Ind. He is responsible for profit and loss of the cattle business, which includes sales, marketing and field research. Riggs also assists in providing direction for the U.S. and worldwide Elanco business operations. Within Elanco, Riggs has also served as the liaison for National FFA and as a judge at their national contests. He is currently a member of the Texas Cattle Feeders Beef Political Action Committee and serves on the fourth congressional district agricultural advisory committee. Riggs has served on many industry committees including being one of the original members of the Allied Industry Committee of the National Pork Producers Council.
Gary M. Weber graduated with a bachelor's degree and master's degree in Animal Science from Purdue in 1977 and 1979 respectively. In 1984 he received a doctorate degree from Michigan State University. Weber currently serves as the executive director of regulatory affairs for the National Cattlemen's Beef Association in Washington, D.C. He works closely with several regulatory agencies including the U.S. Department of Agriculture, Food and Drug Administration, Environmental Protection Agency and in public policy issues pertaining to meat inspection, animal health, beef safety research and education. Prior to his current position, he served as the program leader in animal science for the USDA Extension Service in Washington, D.C. Weber has been involved in several organizations and advisory groups, including serving a term on the USDA secretary's advisory committee for meat and poultry inspection.
The Early Career award recipients are Christie S. Chavis and Brian P. Demos.
Christie S. Chavis
Brian P. Demos
Christie S. Chavis received her bachelor's degree in animal science in 1992 and her master's degree in growth and developmental biology in 1994 from Purdue, and a master's in business administration from Washington University in 2004. Chavis is the commercial strategy leader for Monsanto Choice Genetics, a division of Monsanto Company headquartered in St. Louis, Mo. Chavis is responsible for the commercial development and strategy for identifying corn hybrids with improved nutritional characteristics that can enhance livestock productivity and value to the producer. She is a founding member of the Monsanto Mavericks charity bicycling team for multiple sclerosis research. She is also active in the U.S. Equestrian Federation and Missouri Horse Show Assn. as a horse owner and exhibitor.
Brian P. Demos graduated with a bachelor's degree in animal science from the Ohio State University in 1990. In 1992, he received his master's degree in Animal Science at Purdue under the tutelage of John Forrest and he received his doctorate in 1995 from the University of Nebraska. Demos now serves as the Vice President of Product Quality and Development for the ConAgra Foods Food Service Company. Demos is responsible for production and food safety at 12 manufacturing facilities throughout the country. During his career at ConAgra, Demos has developed nearly 80 new products and repositioned ConAgra as the largest manufacturer of cooked bacon in the world.
Saturday, October 16, 2004
11:00 a.m. - 3:30 p.m.
Lunch Buffet By Parrett's Catering
Football tickets are no longer available (sold out), but you can still purchase lunch tickets and join us at the reunion.
The Animal Sciences Department faculty and staff invite you to join us at our reunion tent for wonderful food and fellowship before the game. Whatever your affiliation with the Purdue Animal Sciences program, we want you to feel welcome at the reunion. Up-to-date schedules and details can be found at http://www.ansc.purdue.edu/alumni/; a registration form is available at http://www.ansc.purdue.edu/alumni/Reunion2004.pdf.
Our reunion tent will be at the north end of the Memorial Mall, convenient to parking in the Marsteller or University Street Garages. A pre-game lunch prepared by Parrett's Catering is planned and will include Indiana meats donated by Indiana Packers Corporation, Maple Leaf Farms, Indiana Beef Cattle Association and Tyson Foods. Additional sponsors include Indiana Farm Bureau and Smithfield Foods. Lunch will be followed by a brief welcome by Department Head Alan Grant, recognition of the 2004 Indiana Livestock Breeders Association Hall of Fame honoree, as well as introduction of our 2004 Animal Sciences Distinguished Alumni. There will be special seating and recognition for those celebrating their 25th and 50th anniversaries of their Purdue graduation (classes of 1954 and 1979), as well as members of the 1954 Judging Teams.
If you need more information or have questions, contact the Ag Alumni Association at phone (765) 494-8593 or fax (765) 494-9626.
Co-Chairs: Tip Cline, Kern Hendrix and Wayne Singleton
Animal Sciences Reunion Schedule
Saturday October 16, 2004
11:00 a.m. Tent Opens **
12:00 p.m. Check-in at Tent and visiting
1:30 p.m. Lunch - Reservations Required
2:30 p.m. Program
3:30 p.m. March to Stadium
4:30 p.m. Kick-off - Purdue vs. Wisconsin
** Occasionally a kick-off time will be changed. In the event of a change, tent will open four hours prior to kickoff.