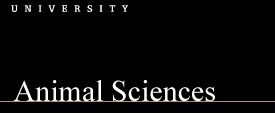 September 2010 ANSC Alumni Email Newsletter
INDEX of NEWS
The Purdue Animal Sciences Homecoming Reunion is Saturday, October 16. We invite you to join us at our reunion tent for food and fellowship before the game. Brunch will be served at 9:00 am, with the program at 10:00 am. Purdue takes on Minnesota at noon.
Up-to-date details can be found at http://www.ag.purdue.edu/ansc/Pages/Alumni.aspx. Deadline for meal tickets is October 1.
We look forward to seeing you there!
2010 Purdue Royal Showmanship Contest
On behalf of the Purdue University Block & Bridle club, animal science and other Purdue alumni interested in showing livestock are invited to attend the 2010 Purdue University Royal Showmanship contest. This year will mark the 62nd annual event and will feature an alumni/faculty showmanship class in the horse division. The contest will be held on Friday, October 1, 2010 at the Purdue Animal Sciences Research & Education Center toolshed beginning at 5PM local time. Purdue students will compete against one another in equine, swine, sheep, and beef showmanship classes. You can register online at http://www.surveymonkey.com/s/LCQZQFX. In addition to the contest, Block & Bridle will recognize this year's Honorary Member who will also judge the alumni and faculty showmanship class. Additional information on the Royal can be found at www.blocknbridle.com or contact Brooke Wehr, bwehr@purdue.edu, with questions. Please come out for a Purdue tradition and an evening of livestock, good company, and a social held afterwards!
Book-Harmon Forum on October 26
The 2010 Book-Harmon Leadership Forum will be held on October 26. The speaker will be Jill Greene, Senior Market Development Manager, Applied Biosystems - Life Technologies.
Jill Greene joined Life Technologies in June 2008 as Market Development Manager for the newly formed Animal Health Group. Life Technologies customers do their work across the biological spectrum, working to advance personalized medicine, regenerative science, molecular diagnostics, agricultural and environmental research, and 21st century forensics. The company has sales of more than $3.3 billion, employs approximately 9,000 people and has a presence in 160 countries.
Greene received a B.S. degree in Animal Science in 1978 from Purdue University. She started her career as a sales representative for Elanco Animal Health. Throughout her marketing career she has worked at several leading advertising/marketing firms helping animal health companies market their products. These companies include: Intervet, Elanco, Virbac, Bayer, Cyanamid and Syntex. Greene was a part of the team that worked on the launch of Paylean and also Baytril, the first fluoroquionlone approved for use in food animals. As a Senior Vice President at The Meyocks Group Advertising Firm, Greene led the agency's team overseeing marketing activities for Firestone Farm Tires, Farm Credit Services of America and Hy-Vee Inc., one of the top supermarket chains in the U.S.
Greene received a Purdue Distinguished Agricultural Alumni Award in 1998 and served as the 2001 President for the National Agri-Marketing Association.
The Forum on October 26 will have a Graduate Student and Faculty seminar, "From Livestock Marketing to Social Marketing - Leadership Experiences Really Are Lifelong Learning". There will be an Open Undergraduate Seminar, "Choices Define Us More Than Ability".
The Book-Harmon Leadership Forum is sponsored by the Department of Animal Sciences, The Office of Academic Programs, the College of Agriculture, Maple Leaf Farms, and Monsanto Company.
2010 Indiana Livestock Breeders Association Hall of Fame

ILBA Hall of Fame Honorees (left to right) John Cloe, Bill Couch, and Denny Shoup
Three were inducted into the ILBA Hall of Fame at this summer's Indiana State Fair.
John Cloe
Horse Industry Leader
Greencastle, IN
John Cloe grew up on a farm in Hamilton County, Indiana and exhibited cattle and hogs as a 4-H'er. He obtained a love for horses and competed in rodeos in his early twenties while becoming a master farrier. He has served as the official farrier for the Pan Am Games and the prestigious Point Hunter and Jumper Show.
Most importantly, John is an authentic ambassador for the livestock and horse industries in Indiana and a true leader. John has always been involved and is the entrepreneur and driver of innovation for better infrastructure in unifying the diverse horse industry. As an innovator and nationally respected equine professional, John has assisted not only Indiana, but other state horse industries to organize and conduct successful horse shows and fairs. John and Judy, have managed many of the largest horse shows in the country and have developed privately owned livestock show and sale facilities in central Indiana.
John is a generous and thoughtful leader that is constantly present and encouraging the industry to be better educated and contribute more to the Indiana agricultural and general economy. He was a founding member of the Indiana Farriers' Association, President of the Indiana Horse Council, co-chairman of the Hoosier Horse Fair and Expo, an member of the Indiana Farm Bureau Equine Committee, and on the BOAH Equine Advisory Committee. He is a founding and lifetime member of the Quarter Horse Racing Association and has helped to make Indiana one of the premier Quarter Horse Racing programs in the United States.
Congratulations and thank you to John Cloe for your wisdom, innovation, support and leadership provided to the horse industry in Indiana and the United States.
Bill Couch
Cattle Breeder
Owensville, IN
Bill Couch grew up showing cattle in 4-H and assisted in the family Polled Hereford operation. After high school, Bill fitted the first Simmental cattle to enter this country and had Champion Simmental Bull at the National Western. Very few cattlemen have developed the number of nationally prominent herds of different breeds of cattle than the premier cattle breeder, Bill Couch. These operations include Diamond C Ranch and Pharris Farms in Texas, Express Ranches in Oklahoma, and His own C-Bar cattle Company to name a few.
While at each operation, Bill was an innovator in the areas of reproduction, genetics, and marketing. His quest for improvement prompted research in estrous synchronization and embryo transfer. He led development of Lim-Flex cattle while at Express Ranches and initiated the junior scholarship program that many livestock operations have copied and operate today.
Bill has always been willing to share his cattle knowledge with other breeders and has mentored many young producers with his commonsense approached and his tailored "Couch's Rules". He has judged nearly every major cattle show in the United States and the Canadian Western Agribition. He strongly believes that youth are the backbone for the future of the beef industry and has worked closely with young people at the local, state, and national levels. He has served as an official and stock provider for many collegiate and high school judging contests.
He has been a leader in several breed organizations and continually promotes the cattle industry in his home state and across the country.
Congratulations and thank you to Bill Couch for your leadership, giving spirit, sensible approach, and positive impact you have made on the cattle industry.
Denny Shoup
Swine Breeder
Michigantown, IN
Denny Shoup started his career in animal agriculture through 4-H in 1953. He was one the Clinton County Livestock Judging Team and was high individual in a national contest in Virginia in 1960. After high school, Denny chose a full scholarship at Tulane University where he played college basketball. While in college, Denny and Tom formed Shoup Brothers Hampshires and produced the Grand and Reserve Champions at the Indiana State Fair. After college, he accepted a management position at the Chrysler Corporation in Kokomo, IN.
After less than a year at Chrysler, Denny left to pursue his passion of raising Hampshire hogs. Denny developed a good clientele through 4-H customers and marketing breeding stock with an emphasis on carcass quality. In the 1970's Shoup Brothers held four production sales a year and would market 500 boars per year. The Shoup operation was one of the first to measure sow productivity and continued to focus on meat quality. They marketed Hampshire hogs across the country and in several foreign countries, while producing grand champion boar at the Indiana State Fair three years in a row (1974, 1975, and 1976).
After the herd was lost to Pseudorabies and the changing industry environment, Denny founded the innovative Premier Swine Breeding Systems in 1983. This network of purebred breeders set forth to produce seedstock to meet the demand of the commercial pork producers. The new company developed performance testing, health monitoring, and marketing programs to compete with the corporate seedstock companies. They managed and marketed nearly 100,000 gilts per year from purebred parent stock. Premier producers were in Indiana, Illinois, Iowa, and Ohio.
Congratulations and thank you to Denny Shoup for your innovation, foresight, networking, and genetics provided to the swine industry in Indiana and the world.
ANSC Student Featured in "5 Students Who Lead"
Amber Courter, a Senior in Animal Sciences, is featured as one of Purdue University's 5 Students Who Lead. Congratulations, Amber!