Purdue Pork Page Archive
Sow/Gilt Anatomy
Terms:
Bladder: Muscular structure which stores urine from the kidneys via the urethra.
Cervix: The muscular junction between the vagina and the urethra. It is the site of semen deposition during mating.
Infundibulum: A portion of the oviduct which may be referred to as the 'fimbriae'. The thin membrane like structure which surrounds the ovary. At ovulation, it funnels the ova (eggs) into the oviduct.
Ovary: The primary reproductive gland of the female. It produces ova on a cyclic basis (21 days) and secretes the female hormones estrogen and progesterone.
Oviducts: Also referred to as the fallopian tubes. Serve as the site of fertilization and provide a passageway for sperm and ova. The embryos reside here for about 2 days before they are transported to the uterine horns.
Urethra: Tube which connects bladder to vagina. The urethral opening is about 2 inches anterior to the vulvular opening. Can be traumatized by the boar's penis or by improper insemination technique.
Uterine Body: The portion of the uterus between the cervix and the uterine horns.
Uterine Horns: Paired Y shaped tubes which connect the oviducts to the uterus and cervix. Muscular contractions provide for sperm transport to oviducts. Site of fetal development. Secretes prostaglandin which is involved with regression of the corpus luteum.
Vagina: A muscular canal that extends from the cervix to the vulva. Serves as a passageway during parturition (farrowing) and during urination.
Vulva: External portion of the reproductive system. Usually becomes reddened and swollen prior to estrus as a result of increased blood flow stimulated by higher estrogen levels.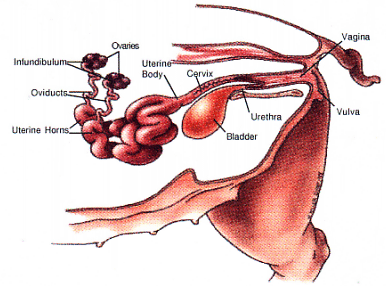 ---
Purdue Pork Page Archive